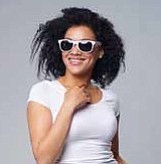 Typical of deconstructed denim, widely available. Judith Rasband explains why dressing down is a dangerous
trend.
Stories this photo appears in:

What started in Silicon Valley, was plugged by Levi's as Casual Friday, has eroded into casual everyday, for everyone, everywhere. Promoting America's obsession with casual dress, retail giants pushed the dress down trend to the level of faded t-shirts, dirty, distressed, deconstructed denim, and flip-flops. As the result, too many consumers don't buy or wear nice clothing anywhere, anymore.