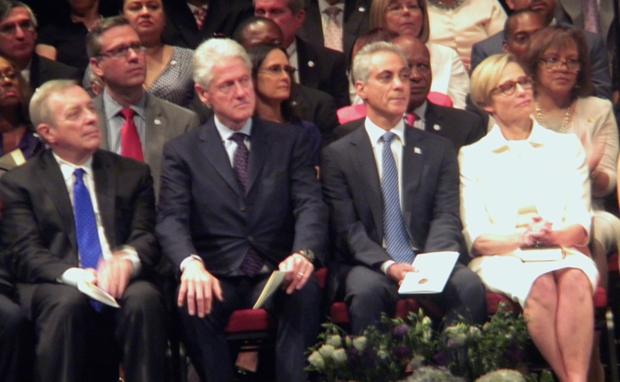 Top Row L-R Ill. State Treasurer Michael W. Frerichs; Ill. Attorney General Lisa Madigan; Ill. State Secretary Jesse White; U.S. Congressman Robin Kelly (IL - 2nd).
Bottom Row L-R U.S. Senator Dick Durbin (IL-D); President Bill Clinton; Chicago Mayor Rahm Emaneul and wife Amy Rule.
Stories this photo appears in:

With his wife and children by his side, Chicago Mayor Rahm Emanuel was sworn into his second term in office Monday at the Chicago Theatre. Former U.S. President Bill Clinton, former Chicago Mayor Richard M. Daley, and Senator Dick Durbin also attended the ceremony where several other elected officials including City Treasurer, Kurt Summers, City Clerk Susana A. Mendoza, and 50 Aldermen.