Chicago State University Host Community Curation Events To Digitize Historical Document
9/18/2019, noon | Updated on 9/18/2019, noon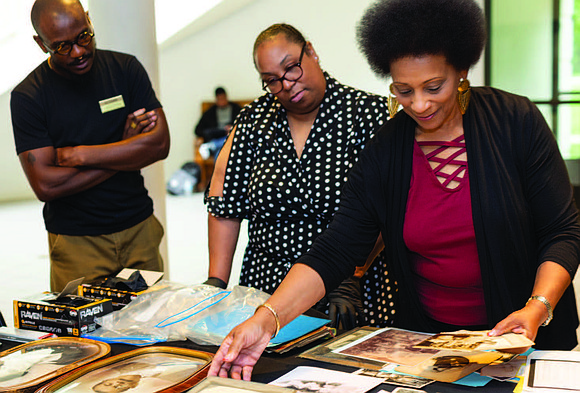 Chicago State University Host Community Curation Events To Digitize Historical Document
BY KATHERINE NEWMAN
During September, Chicago State University, 9501 S. King Dr., is hosting the National Museum of African American History and Culture's traveling Community Curation program which allows individuals to have their family photos, videos, and documents digitized for free. The purpose of the program is to encourage intergenerational storytelling in the African American community.
A Still Image Digitization event will take place at Chicago State University from Sept. 24 to 28 and anyone is welcome to bring their photos and documents to be digitized. Participants will leave with all of their original items as well as a USB drive containing the digital copies of everything they brought in.
The Community Curation project was made possible by Robert Frederick Smith Fund for the Digitization and Curation of African American History (Smith Fund) and Chicago is the third city to be able to participate in the project since its start in 2017.
The Smith Fund was established to advance digital curation, community outreach, and internship initiatives at the National Museum of African American History and Culture.
"We're coming into town and helping people in Chicago to digitize their collection, to digitize their photographs, their family items, and then also their media," said Dr. Doretha Williams, the National Museum of African American History and Culture's Smith Fund program manager. "This is a pure service and we do not keep anything unless someone wants us to use an item then they can do a digital donation."
Aside from helping residents digitize their items, the Community Curation program also hosts workshops and panel discussions that share the importance of intergenerational storytelling and how to trace and preserve family history.
"This is a great way to pass these stories down from generation to generation. One thing we like about Community Curation is that a lot of families are coming in together and we have multiple generations bringing their items in. There may be a grandmother and a grandchild and that grandchild may not know the full history of the family, so as they go through the photos, they're talking about what great-grandpa was wearing and where he came from or what great-grandma did to her hair and what school she went to," said Williams.
The National Museum of African American History and Culture decided to visit Chicago on its third Community Curation stop due to the immense African American history that exists here as a result of the Great Migration which saw hundreds of thousands of black people move from the south to resettle in Chicago between 1916 and 1970.
"Chicago is one of those points of intense African American migration. The things that we're looking for are stories of migration, business building, community building, educational institutions, and all those wonderful things that Chicago has a host of when it comes to African American History and Culture," said Williams.
To learn more about Community Curation visit www.communitycuration.org.