LARGEST CAPITAL IMPROVEMENT PLAN IN CTA HISTORY AIMS TO BE AS DIVERSE AS CTA RIDERSHIP
9/11/2019, noon | Updated on 9/11/2019, noon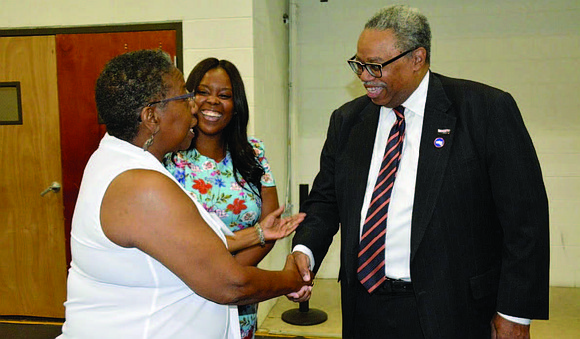 Largest Capital Improvement Plan In CTA History Aims To Be As Diverse As CTA Ridership
BY KATHERINE NEWMAN
As the Chicago Transit Authority (CTA) prepares for it's largest capital improvement plan ever, the CTA and Walsh-Fluor, the projects main contractor, are working together to make sure that the project's workforce is just as diverse as the CTA's millions of daily riders.
The upcoming project is known as the Red-Purple Modernization and it consists of a 9.6-mile stretch of track that was built close to a century ago and currently requires frequent maintenance. Maintaining the track as-is has become costly and often slows train service, according to information provided by CTA.
The Red Line, which runs north to south for almost the entire length of the city, is now Chicago's busiest train line and serves several of the most densely populated neighborhoods in the city. This project will allow the CTA to increase service on the Red Line and serve more people by adding more trains during rush periods, according to information provided by CTA.
Recently, members of the CTA's Diversity and Inclusion Programs staff joined the Walsh-Fluor Design Build Team at the Black Contractors Owners and Executives monthly membership meeting to talk about what opportunities will be available for disadvantaged business enterprises (DBEs) on the CTA's Red-Purple Modernization project. The Black Contractors Owners and Executives meeting was held at LiveWire Construction, 12900 S. Throop St., in Calumet Park.
"We want to ensure that our workforce is as diverse as the ridership that CTA has, so that means that we're pulling individuals from all across the City of Chicago from the south, the west, the north, and the east sides to ensure inclusivity as it concerns this project. We're doing different things with the contractors, trying to partner with different pre-apprenticeship programs, and partnering with the unions as well to ensure that we're reducing barriers so that individuals can ultimately be placed to work on this project and have long term employment," said Chynna Hampton, senior project manager with workforce initiative for the CTA.
In addition to meeting with the Black Contractors Owners and Executives, the CTA also hosted an RPM Construction Career Networking Fair at the JLM Center, 2622 W. Jackson Blvd., where more than 170 attendees learned about training and apprenticeship opportunities that could lead to construction jobs on RPM and other projects.
"When you think about the CTA, you think about how we have the goal of transporting people and we transport people to different aspects of their lives, whether it be to work, whether it be taking your child to school. Our board chairman and CEO see it as important that this project be the catalyst to set the tone to ensure diversity in our construction projects," said Hampton. "Our Board Chairman and CEO found it really important with this, because a billion dollars of this project is construction based, that we ensure that this workforce is diverse and ensure that we are assisting with breaking the barriers for entry into the trade."
To learn more about opportunities involving the RPM project visit www.transitchicago.com/rpm/jobs/.