CHICAGO SOUTHLAND ECONOMIC DEVELOPMENT CORPORATION PREPARES TO GIVE ANNUAL AWARDS
9/11/2019, noon | Updated on 9/11/2019, noon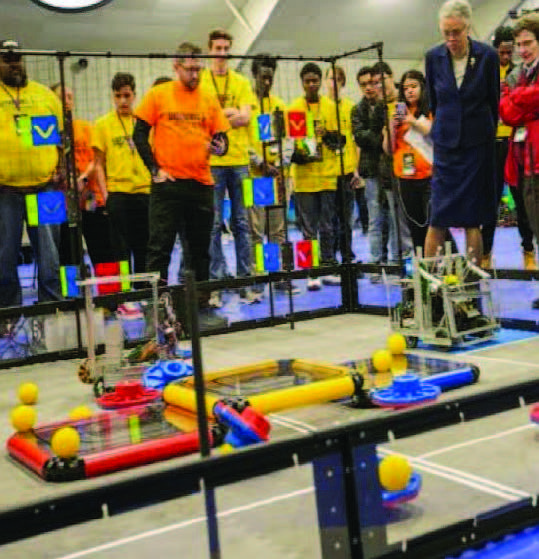 Chicago Southland Economic Development Corporation Prepares to Give Annual Awards
BY KATHERINE NEWMAN
The Chicago Southland Economic Development Corporation is preparing to host it's 5th Annual Jack Lanigan Sr. Memorial Big Shoes Award event. The event will take place on Sept. 12 from 5 p.m. to 7 p.m. at the Ravisloe Country, 18231 Park Ave., in Homewood.
The Big Shoes Award was recently renamed to be the Jack Lanigan, Sr. Memorial Award in honor of the first Big Shoes Award recipient. Also new this year is a second award known as the No Stone Left Unturned Award.
The Jack Lanigan, Sr. Memorial Award, formerly known as the Big Shoes Award, celebrates the advanced manufacturing community in the Chicago Southland area and specifically those who actively support education and workforce programs.
This year's 2019 award recipient is Nancy Wilson, CEO of Morrison Container Handling Solutions, who was also recently named one of Crain's 2019 Notable Women in Manufacturing.
Morrison Container Handling Solutions, located in Glenwood, was founded in 1971 and is an industry leader in the innovative design and manufacture of custom container handling systems, timing screws, and change parts for the packaging industry. According to their website, if something comes in a bottle or a can, it is likely that Morrison Container Handling Solutions has touched it at some point along the way.
Wilson has been with the company, which was founded by her husband, since 2011 and she assumed full operations responsibility when she became CEO in 2012. In addition to working with her husband, Wilson's son, Chris, also serves as the vice president of operations for Morrison Container Handling Solutions, according to information on the Morrison Container Handling Solutions website.
This year, special recognition will be given to Rick Bryant, senior advisor to Congresswoman Robin Kelly. Bryant will receive the No Stone Unturned Award for his leadership in pursuing the possibility of creating the South Suburban Airport. He will be the first person to receive this award.
"Just as Midway and O'Hare spearheaded Illinois' economic investment and transportation growth over the past century, the South Suburban Airport will encourage innovation and perpetuate prosperity for this century. While it's taken us decades, and some would agree longer, to get here, the time has finally come," said Congresswoman Kelly. "The South Suburban Airport is a unique, once in a lifetime game-changer. It has the potential and promise to be the safest, greenest, most innovative and most customer-focused airport in North America."
Just as Congresswoman Kelly has been publicly pushing for the South Suburban Airport, Bryant has been behind the scenes working tirelessly to move the needle on this matter, which is why he will be receiving the No Stone Left Unturned Award.
Also during the upcoming event, two Rich East High School students and their coach, Mike Wilson, will give a robotics demonstration from their Manufacturing, Engineering, and Robotics Program.