Ward Meeting Shares Community Updates and Obama Center Construction Opportunities
9/4/2019, noon | Updated on 9/4/2019, noon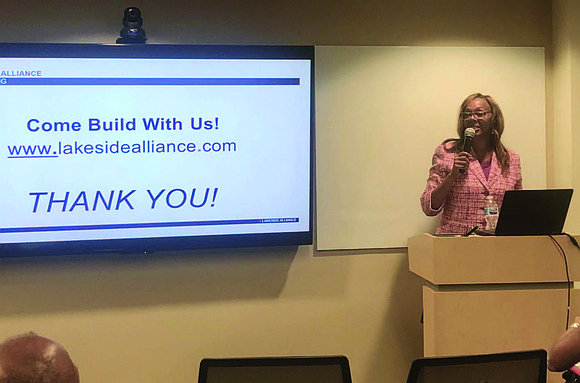 Ward Meeting Shares Community Updates and Obama Center
Construction Opportunities
BY KATHERINE NEWMAN
Fifth Ward Alderman, Leslie Hairston, recently held her monthly Ward Meeting at La Rabida Children's Hospital. During the meeting, Hairston gave information about what she has been working on along with presentations from the city's Department of Streets and Sanitation, the Chicago Department of Transportation, and Lakeside Alliance regarding the Obama Presidential Center.
On July 24, Alderman Hairston and 20th Ward Alderman Jeanette Taylor introduced a Community Benefits Agreement (CBA) Ordinance for the neighborhoods surrounding the proposed Obama Presidential Center in Jackson Park. The ordinance aims to freeze property taxes for existing long-time homeowners, maintain 30% affordable housing in the area, and establish an Obama CBA Community Trust.
"As promised, I introduced a community benefits agreement ordinance with my colleague, Alderman Taylor, in response to concerns from residents about housing displacement due to the Obama Presidential Center coming to Jackson Park," said Hairston. "I am working with the law department and other aldermen to tweak the language and make sure the ordinance is legally sound."
During the recent meeting, Malcolm Whiteside Jr., deputy commissioner of Streets and Sanitation for the City of Chicago, gave a presentation about forestry in the city and who to call for tree trimmings and tree planting.
"Every two years, we do a dead tree survey. My guys ride up and down every block looking for dead trees," said Whiteside.
The forestry team is preparing to do a dead tree survey in the 5th ward next month and Whiteside said he is trying to preserve as many trees as he can. Unfortunately, he said he ends up taking out about 15,000 trees each year and only has funding to replace 4,000.
If you notice a tree has been removed in front of your home you can call 311 to request a new tree and upon qualification, the city will plant one for you, according to Whiteside.
Another presentation from the Chicago Department of Transportation (CDOT) provided information about new smart lighting being installed in the Ward and street re-pavements. Residents advised the several CDOT representatives at the meeting that both east and west Midway Plaisance need to be completely repaved from Cottage Grove Avenue to Stony Island Avenue.
Finally, Lakeside Alliance, builder of the Obama Presidential Center, gave a presentation regarding the what will be included in the Obama Presidential Center and the opportunities that are available through the project.
"We have a 50 percent utilization goal of underrepresented businesses and that has never been achieved before," said Pamyla Brown, community and citizenship director at Turner Construction Company and representative of Lakeside Alliance, "One of the largest barriers to getting people into union apprenticeship programs is that folks don't know they exist and they don't know how to access them which is where our team comes into play."
Lakeside Alliance and Alderman Hairston recently hosted their first Contractor Outreach Meeting at the South Shore Cultural Center and Lakeside Alliance has opened a South Shore Resource Center, 1750 E. 71st St., where people can go to learn more about construction careers.