SweeTARTS® Celebrates the Freedom to "Be Both™" Through Fashion Collaboration with Christian Siriano
9/4/2019, noon | Updated on 9/4/2019, noon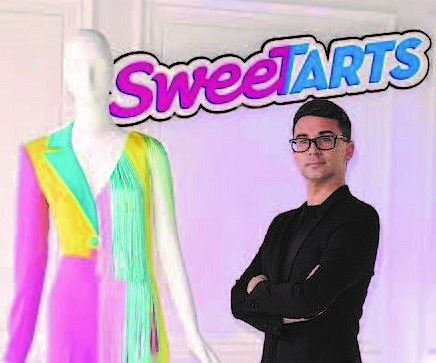 SweeTARTS® Celebrates the Freedom to "Be Both™" Through Fashion Collaboration with Christian Siriano
SweeTARTS® recently announced its partnership with Council of Fashion Designers of America (CFDA) designer Christian Siriano in celebration of SweeTARTS "Be Both" campaign. Siriano designed a custom couture look inspired by the brand, which celebrates the freedom to be "more than one thing."
The couture fashion look was shared recently at a private event held in New York City to an exclusive audience of media and fashion insiders.
Earlier this year, SweeTARTS launched a new marketing campaign called "Be Both," celebrating the multi-dimensionality of its products, and its Gen Z brand fans who live unapologetically colorful lives. The new campaign champions Gen Z and their desire to reject one-dimensional definitions of identity, by celebrating their passions, expressions and tastes, and connecting this back to the brand's multitude of colliding flavors, textures and forms.
"SweeTARTS candies are never just one thing – they are long and short, flat and round, chewy and hard, sweet and tart. Our brand embraces surprising mash-ups, and embodies the idea of duality, just like Gen Z," said Ashley Incarnato, SweeTARTS Senior Brand Manager at Ferrara Candy Company. "SweeTARTS is thrilled to be collaborating with Christian Siriano to create a visual representation of "Be Both" because of his unique talent rejecting one-dimensional definitions in fashion, a key passion point for our core audience."
Siriano designed the look using the SweeTARTS Original and Mini Chewy products as inspiration. He chose a textured stretch crepe fabric that is soft, but also gives a sense of structure for the suiting. The fringe was inspired by SweeTARTS Ropes, adding some movement and drama to the dress. The overall inspiration of the look embodies the "Be Both" ethos that the brand has adopted.
"It's impressive to see a candy brand really think about the world today, and want to be as inclusive and diverse as our society is becoming," said Siriano. "This project was such a great fit for me because this is how I design and live my life every day! Anyone can be anything, and even candy can be more than one thing