NATIONAL NONPROFIT OPENS DONATION AND GIVING CENTER FOR KIDS AT SOUTH SIDE YMCA
9/4/2019, noon | Updated on 9/4/2019, noon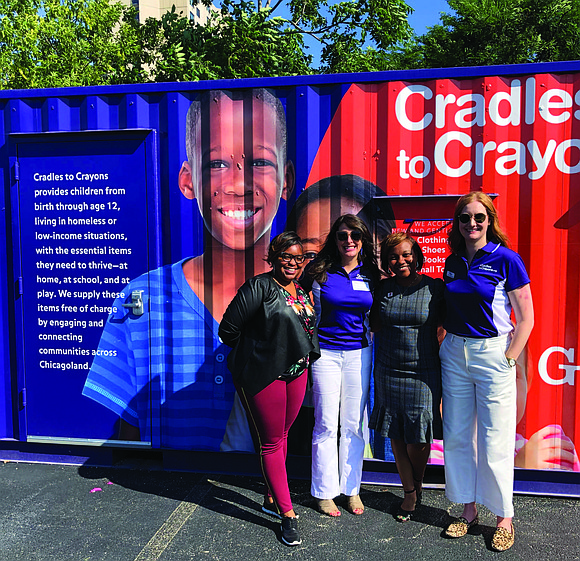 National Nonprofit Opens Donation And Giving Center For Kids At South Side YMCA
BY KATHERINE NEWMAN
Cradles to Crayons, a nonprofit organization providing kids with the everyday essentials they need to succeed, recently celebrated the opening of their South Hub at the South Side YMCA, 6330 S Stony Island Ave., in Woodlawn. The new South Hub will be a place where the community can donate items for local children and where partnering organizations come to pick up the items they need for the kids they serve.
Originally founded in Boston in 2002, Cradles to Crayons opened a site in Philadelphia in 2006 and then made a move to Chicago in 2016. Their Chicago headquarters, known as the Giving Factory, is located on the northwest side the city in Logan Square. The organization quickly realized that the Logan Square locations was a barrier for some south side organizations who would benefit from their services.
Cradles to Crayons partners with other organizations throughout the city to deliver Kid Packs which are packed with everyday essentials and are individually tailored for a specific child. Partnering organizations can order Kid Packs based on the needs of the children they serve and then come pick them up and distribute them.
"Various programs within the YMCA of Metropolitan Chicago order items through us for the children they serve and that includes the South Side YMCA. We understood from our partners that our warehouse and Logan Square is occasionally a barrier for them to order more items for their children because we don't have a transportation offering so our partners who order need to come and pick up from the warehouse. So, for people who are working or living on the south side that is a barrier for them to order more items for the kids they serve," said Shoshana Buchholz-Miller, executive director of Cradles to Crayons Chicago.
After talking with the folks at the South Side YMCA, Cradles to Crayons decided to pilot the South Hub there and see if it would make a difference for South Side kids.
The South Hub sits in the parking lot at the South Side YMCA and serves as a 24/7 donation drop off location for new and gently used items for kids. Also, there is a door with a key-code entry system that allows the partnering organizations to come and pick up their order when it's convenient for them.
"It's actually a converted and customized shipping container that acts as a drop off location so people can drop off their donated items and also acts as a distribution location," said Buchholz-Miller." "That is all in the parking lot and then on a monthly basis, we will use one of their multi-purpose rooms to do a volunteer activity within the YMCA."
Before the grand opening of the South Hub, Cradles to Crayons did a soft launch of the new donation and distribution center and have discovered that they are already collecting more items and reaching more kids by being at the South Side YMCA, according to Buchholz-Miller.
To learn more about Cradles to Crayons visit www.cradlestocrayons.org.