Karen Jordan and Christian Farr to Emcee Cook County Juvenile Temporary Detention Center Foundation 10th Anniversary Gala "Converging on the Positive
9/4/2019, noon | Updated on 9/4/2019, noon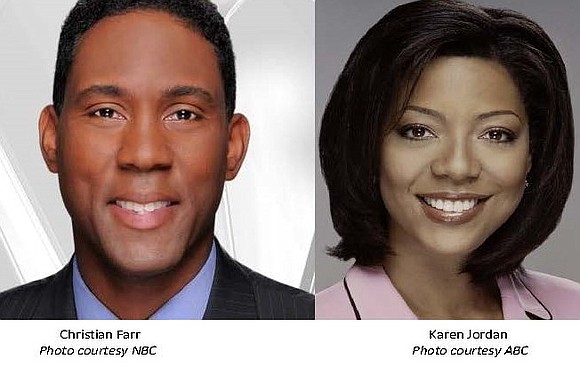 Karen Jordan and Christian Farr to Emcee Cook County Juvenile Temporary Detention Center Foundation 10th Anniversary Gala "Converging on the Positive"
The talented and dynamic television husband-wife duo of Karen Jordan, ABC7, and Christian Farr, NBC5, will serve as co-emcees for the 10th anniversary gala "Converging on the Positive" for the Cook County Juvenile Temporary Detention Center Foundation (JTDCF), on Friday, September 27, at the Hyatt Regency Chicago, 151 E. Wacker Dr. The JTDC Foundation aims to divert youth from the criminal justice system by helping them regain positive control of their lives. This is the organization's inaugural fundraising event.
Jordan co-anchors the ABC7 Weekend News. She grew up in Evanston, Ill., and joined ABC7 Chicago in July 2003. Farr joined NBC5 News as a general assignment reporter and fill-in anchor in August of 2009. He was formerly with WTTW's "Chicago Tonight" program, where he was a correspondent since 2006. Gala honorees include the Union League Boys & Girls Clubs and its president and CEO Mary Ann Mahon Huels, businessman and politician Dr. Willie Wilson, The Resurrection Project CEO Raul Raymundo, and S.T.A.R. Barber College Managing Director Bobby D. Mattison. Former U.S. Secretary of Education Arne Duncan is keynoting the event.
Proceeds from the gala will support programming that enriches the lives of the more than 300 youth. Programs are designed to inspire cultural awareness and foster community involvement and include The Karman Garden, observances of Black History and Hispanic Heritage Months, and JTDC's signature program, The Court Involved Youth Project. The Court Involved Youth Project helps youth aged 12-18 return to and remain in their homes and communities by providing them with solid opportunities to increase their educational attainment, labor force participation, and leadership abilities.
"JTDC has taught me responsibility, self-advocacy, how to be humble, how to have self-confidence, how to like school, how to not give up, how to talk to people ... it taught me all the life skills because I needed it," says 19-year-old JTDC Foundation graduate Nigel. "I've been incarcerated 16 times. I first got locked up when I was around 13 years old. Due to my history, they charged me as an habitual offender and I was sentenced to juvenile life." While a resident of the JTDC, Nigel says he took every class and program the facility offered. By doing so, he gain critical skills that helped him turn his life around. Today, Nigel is a student at Malcolm X College in the nursing program.
About the Cook County Juvenile Temporary Detention Center Foundation
The Cook County Juvenile Temporary Detention Center Foundation was founded in 2009 by Earl Dunlap, federal court transitional administrator, and Sharon Grant, executive director, JTDC Foundation. JTDC provides temporary secure housing for youth, from the age of 13 through 20 years, who are awaiting adjudication of their cases by the Juvenile Division of the Circuit Court of Cook County. The Center also provides care for youth who have been transferred from Criminal Court Jurisdiction. These youth would otherwise be incarcerated in the county jail. Each year, the JTDC Foundation supports facility-based programming and activities, serving nearly 3,200 court-involved youth by providing education, life and job skills, and resources needed for them to successfully return and remain in their communities as productive, violent-free citizens. For more information on the JTDC Foundation, how to purchase tickets, or sponsorship opportunities, contact 312-800-3273 or Dannie Stevanovich dstevanovich@jtdcfoundation.org or visit http://www.jtdcfoundation.org.