HAMPTON AND HOWARD UNIVERSITIES TO COMPETE AT UPCOMING CHICAGO FOOTBALL CLASSIC
9/4/2019, noon | Updated on 9/4/2019, noon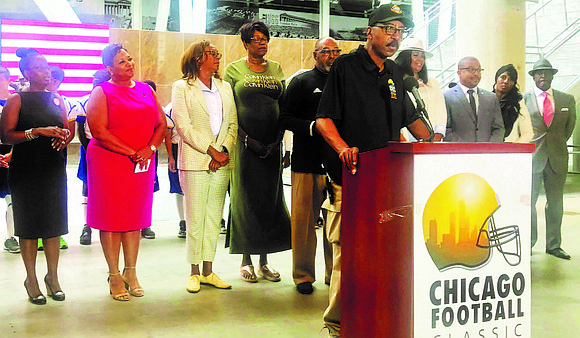 Hampton and Howard Universities To Compete at Upcoming Chicago Football Classic
BY KATHERINE NEWMAN
The annual Chicago Football Classic is returning to Soldier Field on September 14 to host a football game, a college fair, and to give away scholarships to Historically Black Colleges and Universities (HBCUs). This years game will be played by Hampton University and Howard University.
The Chicago Football Classic College Fair will take place before the game and is held in partnership with City Colleges of Chicago. The college fair exposes thousands of students to more than 30 HBCUs from across the country.
"The college fair is a critical part of the Football Classic and we at City Colleges are big promoters of HBCUs. We believe the pathway from City Colleges to our HBCUs is a wonderful pathway for any of our students and that's why we proudly put in time and effort to ensure the college fair is an incredible success. The college fair is an opportunity for students all across our city and region to learn about HBCUs and understand their great value," said Juan Salgado, chairman of City Colleges of Chicago.
The college fair will take place from 9 a.m. to noon on Sept. 14 and is open to students as young as 7th grade. Last year, several students received on-the-spot admission to HBCUs.
Every year, free tickets to the Chicago Football Classic are given to thousands of Chicago Public Schools (CPS) students and every year many of those tickets go unused due to transportation issues, according to Everette Rand, co-founder of the Chicago Football Classic.
"We have a 15,000 seat capacity for CPS students and it's almost totally funded. We want to make sure that our youth get an opportunity to come to the game. Often times, they have a ticket for the game but no way of
getting to it," said Rand.
This year, a major focus is being put on making sure that those students have a way of getting to and from Soldier Field on game day and several sponsors have come forward to provide or fund transportation for CPS students. Still, more is needed to make sure every student with a ticket has a way of getting to the game.
"This year, we are being very intentional in trying to service the students that we can to make sure that they get to the game and make sure they enjoy the game," said Herald "Chip" Johnson, chief officer of Family and Community Engagement for CPS.
Former wide receiver for the Chicago Bears, David Terrell, will be in the audience on game day to support his son, David Terrell Jr., who is a wide receiver for Howard University and will be playing in the upcoming Chicago Football Classic.
For additional information on the Chicago Football Classic including sponsorship packages, tickets, and college fair details, visit www.chicagofootballclassic.org or call (773) 874-8000 x4024.