COMMUNITY ORGANIZATIONS HOST LIGHT IN THE NIGHT EVENTS ACROSS THE CITY
10/2/2019, noon | Updated on 10/2/2019, noon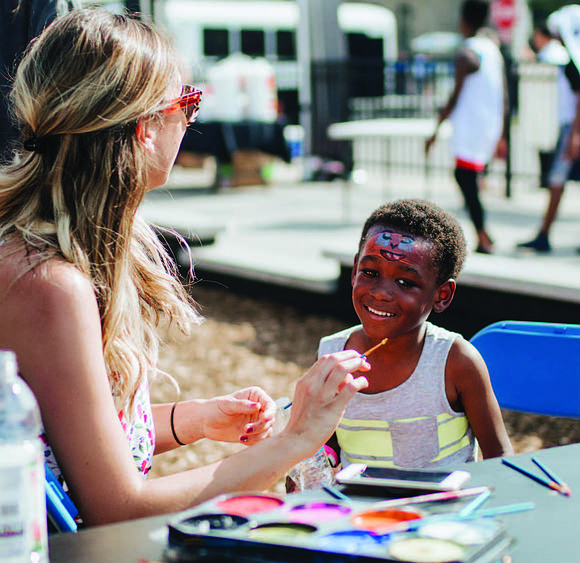 Community Organizations Host Light in the Night Events Across The City
BY KATHERINE NEWMAN
Throughout the summer, community organizations across Chicago have been hosting weekly Light in the Night events to reclaim public spaces in neighborhoods that have been heavily affected by violence. One nonprofit, Breakthrough, recently hosted its final weekly Light in the Night event in East Garfield Park.
Breakthrough is a nonprofit organization working specifically in East Garfield Park on the west side of Chicago. The organization aims to create a safe, stable, and engaged community where residents can be successful, and where families can prosper, according to information from Breakthrough.
"Breakthrough partners with those that are affected by poverty with the goal of building connections, developing skills, and opening doors of opportunity. What that looks like in practice is that we have four facilities in East Garfield Park and we have a hyper-local focus where we are supporting people through education and youth programs, workforce development, housing, health and wellness, and violence prevention. Throughout the organization, the goal really is to help people move from crisis to stability," said Yolanda Fields, chief program officer for Breakthrough.
Breakthrough is part of the Communities Partnering 4 Peace (CP4P) collaborative, convened by Metropolitan Family Services. CP4P is made up of eight organizations that are operating violence prevention initiatives in eight of Chicago's most at-risk neighborhoods. CP4P provides resources and training programs that uplift each organization and help them to make even greater impacts in their communities.
Light in the Night is one way CP4P and it's collaborating organizations help prevent violence in the eight communities, including Austin, Back of the Yards, Englewood, West Englewood, East Garfield Park, West Garfield Park, Humboldt Park, and Little Village, where the events were held each week.
"Light in the Night was a strategy that actually happened across the city at the same time on the same day. Thursday, Friday, and Saturday of each weekend, beginning in July, our community experienced this taking back of inaccessible public spaces," said Fields. "For us, we saw these events as doing more than just creating access to inaccessible public spaces, we saw that it also met some very basic needs for community integration and addressing some of the isolation that occurs when communities are filled with violence."
While the recent Light in the Night event was the last weekly event of the summer, Breakthrough plans to continue to have monthly community events until next summer when they will go back to doing three nights a week every week, according to Fields.
"Before we entered this work, there was a lot of strong sentiments in my mind about who the victims were and who the perpetrators of violence were. Doing this work has given me an up-close and intimate look at who these individuals are and I have seen that they are as varied as the seasons in Chicago," said Fields. "Many of them have found themselves in situations that they don't want to be in and what occurs as a result of that is what we see in the violence and it's a result of disinvestment, not just in our communities, but in an individual."
To learn more about Breakthrough and to see a calendar of upcoming community events visit www.breakthrough.org.