LOCAL MCDONALD'S RESTAURANTS ANNOUNCE PLAN TO HIRE OVER 2,000 NEW WORKERS THIS SUMMER
5/22/2019, noon | Updated on 5/22/2019, noon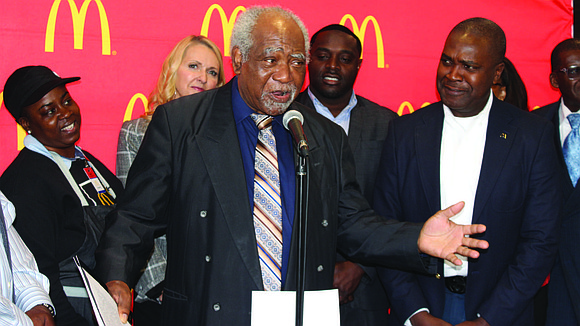 Local McDonald's Restaurants Announce Plan To Hire Over 2,000 New Workers This Summer
BY KATHERINE NEWMAN
With over 36,000 restaurants spanning across 100 countries and territories, McDonald's is recognized as a global fast food restaurant chain and the company employs over a million people worldwide, according to information provided by McDonald's.
At a recent press conference inside a west side McDonald's located on 23 N. Western Ave., the company announced that it is expecting to hire about 2,400 new employees this summer just in Chicago.
"As excited as I am about the great products and the great food, I'm more excited to have the opportunity to announce today that McDonald's is going to hire 2,400 individuals as part of their summer jobs program," said Congressman Danny Davis." "I commend McDonald's for this tremendous opportunity that they are providing."
Not only is McDonald's providing over 2,000 new jobs for Chicagoans this summer, but all restaurant employees who have been employed for over 90 days and who work at least 15 hours a week will also be eligible for the Archways to Opportunity program which provides education and career assistance.
"There are 2,400 folks that we, the McDonald's operators of Chicago, are looking to hire during the summer time and when McDonald's comes into town. we really look to help the community," said Akins Akinnagbe, local McDonald's restaurant owner and operator.
The Archways to Opportunity program helps restaurant employees earn their high school diploma, provides $2,500 a year in college tuition assistance, offers free education and career advising services, and provides opportunities for employees to learn English as a second language.
"[At Mcdonald's] we strive to be a good neighbor in the communities that we call home and one of the most important things we think we can do is to promote education. We believe that because of our size and scale, we can have a real impact and be part of the solution to the education gap that exists in this country," said Lisa Schumacher, director of education strategies for McDonald's.
Archways to Opportunity is a unique and comprehensive program that is designed to meet employees' educational needs "regardless of where they are along the education spectrum," according to Schumacher.
"While working for McDonald's, I continued to grow and develop while being a full-time student, full-time employee, and maintaining a 3.7 GPA," said Taylor Porter, an Archways to Opportunity participant. "Working at McDonald's throughout my college career has been amazing and not only because I care about my education, but because my employer cared about my education and development as well. My restaurant owner would always stress how school comes first."
In addition to announcing their major hiring commitment, McDonald's is also partnering with AARP and the AARP Foundation to create a multi-generational workforce.
AARP is a national nonprofit organization that is dedicated to empowering people that are over 50 years old. AARP Foundation is AARP's charitable affiliate and was created to help end senior poverty by helping vulnerable elders build economic opportunity, according to information provided by McDonald's and AARP.