Olive Harvey Valedictorian Proves That It's Never Too Late To Go Back To School
5/15/2019, noon | Updated on 5/15/2019, noon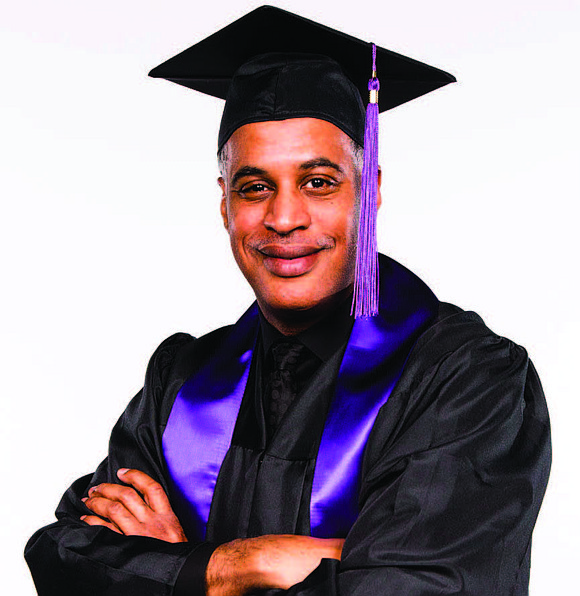 Olive Harvey Valedictorian Proves That It's Never Too Late To Go Back To School
BY KATHERINE NEWMAN
Robert Newson grew up on the south side of Chicago and graduated from Chicago Vocational High School in 1984. He immediately went into the workforce and found success working for the University of Chicago Hospital where he was regularly promoted until he reached a point where he couldn't go any further with only a high school diploma.
Newson's mother, who helped him get the job at the hospital, always told him he was too smart to not have a college diploma and shortly after she passed away in 2013, he decided it was time to go back to school.
Newson enrolled at Olive-Harvey College, which is part of the City Colleges of Chicago network, where he studied information technology (IT) and was named Valedictorian of this years graduating class.
"I chose Olive-Harvey because I was talking to some friends who are already in the IT field and a lot of them recommended that I go to a community college first to get the prerequisite classes out of the way without having to pay the large amount of money that's associated with the big name colleges. The classes at Olive-Harvey were surprisingly tough to get through and despite what some people may say about their impressions of community colleges, it was actually a good choice for me to make," said Newson.
Despite working full-time and taking care of his family, Newson was able to find a schedule that worked for him.
"At first I tried to go almost full-time and do two to three classes per semesters and it was okay, I was able to make it work. But as my daughter started getting a little bit older, she started wanting to spend more time with me so I needed to readjust," said Newson. "Being a parent coupled with a full-time job and trying to go to school and do really well, as opposed to just trying to pass, was really stressful."
Newson ended up taking a few seamsters off but always came right back and was able to graduate after 5 years of chipping away at his coursework.
"I just went ahead and soldiered on and did the best I could along the way. Surprisingly enough, I was able to continue to pass all my classes and maintain a 4.0 GPA in spite of all the challenges," said Newson.
When Newson first enrolled at Olive-Harvey, he had already set his sites on continuing his education after receiving his associate degree and he is already taking classes to complete his Bachelor's Degree in Technical Management at DeVry University.
"I absolutely recommend doing it this way because most of the credits that I earned at Olive-Harvey were transferable to Devry," said Newson. "About 80 percent of the classes that I took at City Colleges were picked up by DeVry so I entered into DeVry as a junior as opposed to starting from scratch."