JUST HOUSING AMENDMENT PROVIDES COUNTY WITH WIDE PROTECTION FROM HOUSING DISCRIMINATION
5/15/2019, noon | Updated on 5/15/2019, noon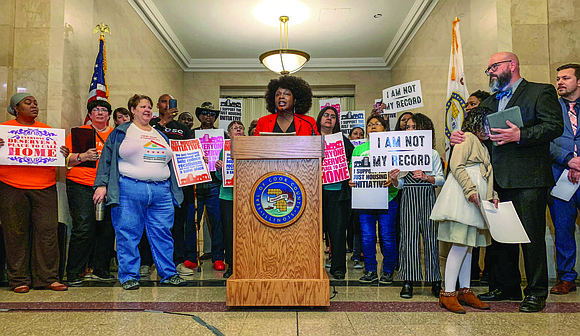 Just Housing Amendment Provides County With Wide Protection From Housing Discrimination
BY KATHERINE NEWMAN
In the United States, as many as one in three adults has been arrested by the age of 23 with communities of color being disproportionately affected by the criminal justice system, according to an analysis of Bureau of Justice Statistics Data that was released by The Sentencing Project. Additionally, whether or not a person has spent time incarcerated, simply having an arrest
or conviction record can create barriers to basic human needs like housing.
In Cook County, the Just Housing Initiative has begun to chip away at that existing barrier to fair housing by strongly advocating for the Just Housing Amendment which was recently passed by the Cook County Board of Commissioners and will go into effect in November.
The Just Housing Initiative is a coalition of over 100 organizations and individuals who have come together to address housing barriers that individuals with arrest and conviction records face.
The recently passed Just Housing Amendment is a huge victory for the Just Housing Initiative and will provide a new layer of protection for individuals with arrest and conviction records from discrimination while applying for housing. The Amendment requires that housing providers don't consider arrests, juvenile records, and sealed or expunged records when approving or denying a housing application, according to information provided by the Just Housing Initiative.
"In a situation where a person actually has a conviction, a landlord is in the position where they can no longer just give a blanket denial to that person.
They actually have to do what's called an individualized assessment," said Gianna Baker, outreach manager for Housing Action Illinois. "This gives landlords the opportunity to consider a person as a whole person and to have a conversation that shares who that person is beyond just their record."
The individualized assessment should look into the nature and severity of the crime, how long ago it was, the person's age when they were convicted, and if there is evidence of rehabilitation. If the landlord still decides to deny the person's housing application they must also provide the applicant with the information that was used to make that decision.
"Obviously, there was a great deal of testimony about the importance of this ordinance," said Cook County Commissioner Brandon Johnson. "The broad support that we've seen for this ordinance across the county is quite humbling but it's also an opportunity for us to recognize that as a county, we have the responsibility to provide justice and equity for families across this county where for far too long children have been left homeless because of a mistake their parent made."
During a Cook County Human Relations Committee hearing that took place shortly before the Just Housing Amendment was passed, Cook County resident, Troy O'Quin, testified about his personal struggle to find housing for himself, his wife, and his two daughters because of his record. As Troy says, "It takes only a second to break the law but a lifetime to live with the consequences.
One second, one crime, one serious lack of judgment and in America this can be a life sentence," O'Quin said in the Human Relations Committee hearing.