District 148 educator to become Principal
5/15/2019, noon | Updated on 5/15/2019, noon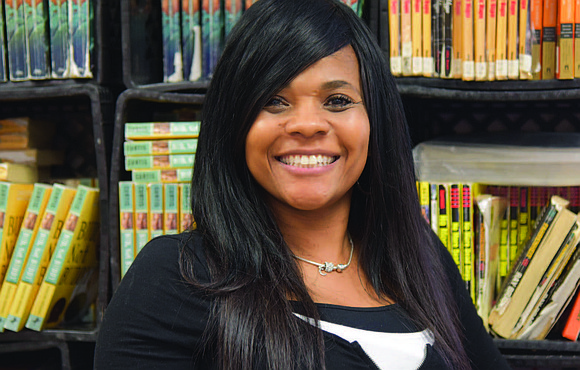 District 148 educator to become Principal
RIVERDALE - A Dolton West School District 148 educator looks forward to having a broader impact on more learners after the current school year ends.
Dione Wilson has been selected as the new Principal of Park Elementary School, effective July 1. She will replace retiring Principal Dr. Dell McFarlane. Dr. McFarlane will retire at the end of the school year after 23 years in District 148.
"I observed the influence I had on a class of 30 … I just felt if I took it to another level, I could impact a larger population," Wilson said.
Wilson is currently the Multi-Tiered Systems of Support Facilitator (MTSS) at Washington Junior High School. She is also the sponsor of the school's chapter of the National Junior Honor Society.
Chosen from a field of more than 40 principal applicants, Wilson has served the District 148 school community for the past seven years. Before that, she spent 17 years in the Chicago Public Schools system where she worked as a teacher, instructional coach and assistant principal.
"Ms. Wilson's educational experience coupled with her passion for helping students to develop as astute and compassionate individuals made her the ideal choice for Park School's leadership. Her energy and creativity will compliment the teaching and learning environment in District 148," said Superintendent of Schools Dr. Kevin J. Nohelty.
She has enjoyed being able to establish lifelong relationships with students and their families. She cherishes the appreciative remarks she receives from parents and former students who freqently thank her for her love, support and inspiration.
Looking ahead to her new administrative role, Wilson said her objective is simply to, "continue the works of changing young minds and motivating and inspiring them to be the best they can be."
"I want to be able to say I was the Principal of this next lawyer, this next doctor, this next congressman, this next president. I'd like to feel I played a part in that," she said.
Wilson has a Bachelor's degree in Education from Eastern Illinois University in Charleston, a Master's degree in Curriculum and Instruction with a Type 75 administrative endorsement from Lewis University in Romeoville and a Master's degree in Reading from Concordia University in River Forest.
She is the mother of three young adult children: Kiara, 24, Kiyonna, 22, and Ken, 18.
District 148 has six elementary schools, three junior high schools and one early childhood center. The District serves approximately 2, 280 students and their families in sections of Dolton, Riverdale, Harvey and South Holland.