ANNUAL PRAYER ON THE 9 EVENT RETURNS THIS YEAR WITH A FOCUS ON FAMILIES
5/15/2019, noon | Updated on 5/15/2019, noon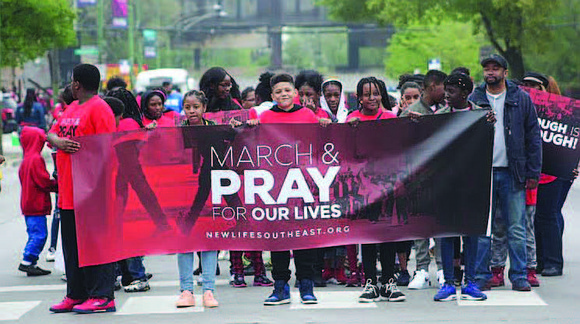 Annual Prayer On The 9 Event Returns This Year With A Focus On Families
BY KATHERINE NEWMAN
Pastor John F. Hannah from the New Life Covenant Southeast Church, 1021 E. 78th St., is once again inviting his congregation and all members of the community to join him on May 18 at 10 a.m. for the Annual Prayer on the 9 event which will begin at the corner of 79th Street and Greenwood Avenue.
The purpose of this event is to gather the community to march and pray for safety and peace in the community. Participants will come together and stand along both sides of a two-mile stretch of 79th Street from Greenwood Avenue to the Dan Ryan Expressway as a way of demonstrating the their unified stance against violence. Families will also travel into the neighborhood and pray for the blocks in the community that are the most affected by violence.
"I live in Chicago and I love Chicago and I'm very sensitive to the things that go on in our community. I believe that it's part of the church's responsibility to tackle the spiritual aspect of what's going on in our city. We let the police be the police, we let the teacher be the teacher, and we let the family be the family but as the Pastor and as a church this is what we are supposed to do," said Hannah.
In addition to serving as a call-to-action for the community, this year's event will focus on honoring families. The walk will be led by Pastor Hannah and his family who will be joined by a number of other families and the goal is to create a shared understanding in the community that in order to stop the violence and protect their youth they must work together.
"One of the things that was a shock to me was that over 70 percent of the homes in the Grand Crossing community are single-parent homes with women being the only parent in the home. Then I looked at what's going on in Chicago and saw that violence against women has increased. So not only are women the head of the house, violence against them has increased and that made me realize that we really need to support families," said Hannah. "I believe we need to come together as a family and pray for our families and ask God to protect our families."
During the event, Pastor Hannah will honor five families with an award of $1,000.
"On that day, our church will release five scholarships of $1,000 to five families, one will go to a family that has a kid who just graduated high school and is heading to college so we want to be a blessing to him. Another is for a grandmother who is raising her grandchildren and we want to be a blessing to them," said Hannah.
To learn more about Prayer on the Nine, visit www.prayeronthe9.org.