Third District Police Officers Partner With Local College To Host Healthy Cooking Lessons
5/8/2019, noon | Updated on 5/8/2019, noon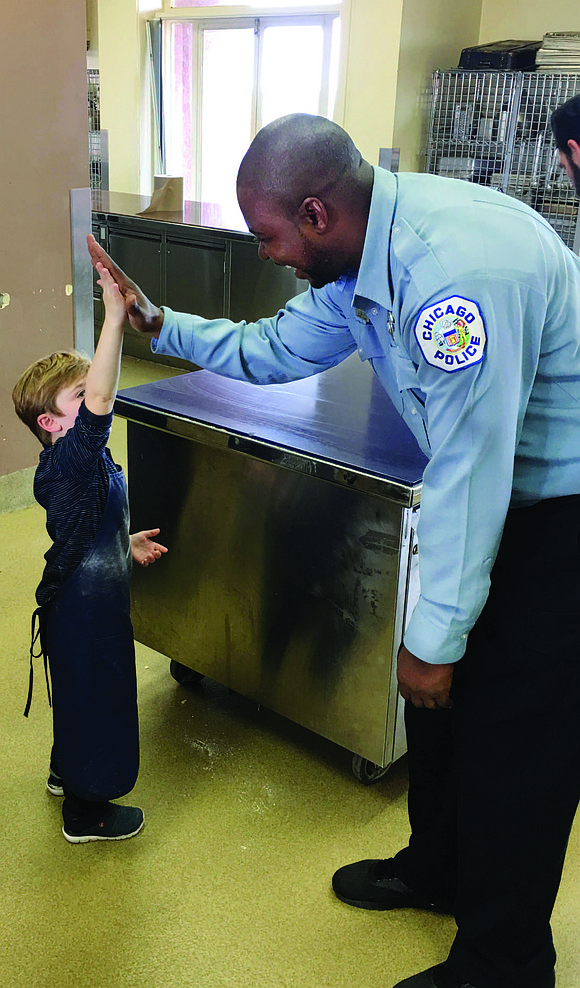 Third District Police Officers Partner With Local College To Host Healthy Cooking Lessons
BY KATHERINE NEWMAN
Staff and students from Kennedy-King College's Washburne Culinary and Hospitality Institute along with officers from the Chicago Police Department's (CPD) Third District come together on May 11 from 11 a.m to 1 p.m. to host their monthly Healthy Plates with the Police event.
Healthy Plates with the Police is an ongoing event series that is led by Officer Delbert Howell, youth officer for CPD's Third District, and while every Saturday is somewhat different, each event is designed to bring together residents and local police officers for an afternoon of healthy cooking and community building.
"I always marvel at the outcomes of this event. The number one outcome for us as a group, including Officer Howell, myself, the chef instructors, and the other officers that are there, is breaking the perception that the police are these bad people and showing that they are humans too," said Marshall Shafkowitz, executive dean of the Washburne Culinary and Hospitality Institute at Kennedy-King College.
Young people from the ages of five to 18 are invited to attend the free event where Washburne staff and students will teach the attendees about healthy eating habits and cooking techniques that they can use at home. While cooking, participants will also have the chance to develop stronger relationships with local police officers who often come to the event with their own children.
"Creating a connection between the community and the officers is actually what the primary goal of this program is and we just happen to be doing it through food. Food is the greatest cultivator of relationships so we've taken that concept and added an educational element to it," said Shafkowitz.
Officer Howell works as the youth officer for the Third District which means that he is responsible for creating engagement opportunities for young people in the community and the police.
"We are all are police officers and we all have the ability to work with youth every day but my role is more tailored to starting programs, doing events, and creating things that will engage the youth as well as the police," said Howell.
Before Healthy Plates with the Police got its start at Kennedy-King in March of 2018, Officer Howell had been hosting healthy cooking lessons for kids in the community room at the Third District Police Station.
The chef that he was working with at that time had to quit and that's when Officer Howell sought out the Washburne Culinary and Hospitality Institute to help sustain his program. From there, Healthy Plates with the Police was born and he said they have been able to bridge so many gaps in the community since then.
"We cook once a month and there is always some new kid there learning a new skill set and enjoying themselves with a smile on their face," said Howell.