Panel Of Activists Discuss The Impact Of Race And Place On Young Adults In Chicago
5/8/2019, noon | Updated on 5/8/2019, noon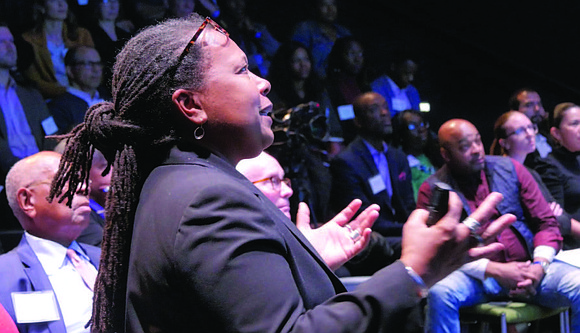 Panel Of Activists Discuss The Impact Of Race And Place On Young Adults In Chicago
BY KATHERINE NEWMAN
The City Club of Chicago recently collaborated with the University of Chicago Office of Civic Engagement to co-host Race & Place: Young Adults and the Future of Chicago, a panel discussion on how young adults experience the city based on their ethnicity and location.
The panel featured Jahmal Cole, Cathy Cohen, and Michelle Morales who are all prominent civic leaders and activists working with young people in Chicago.
Cathy Cohen is a professor at the University of Chicago and the founder and director of the Black Youth Project and GenForward. GenForward is a national bimonthly survey of young adults that looks at how race and ethnicity affect their experiences and how they think about the world.
As part of the GenForward initiative, Cohen decided to go deeper with her research in Chicago by gathering data from young adults in five specific parts of Chicago including Englewood, Pilsen, China Town, the North-Side, and Albany Park. The purpose of this research was to discover how a person's physical location and racial identity could impact their experiences and perceptions of the city.
"Part of what we wanted to do was talk about the nuances and young people's experience based on where they live and what's available in their neighborhoods," said Cohen. "The work that we are trying to do is to talk about the complexity of experiences that young people have in this city."
Jahmal Cole is the founder of My Block, My Hood, My City which is an exposure-based education program for teens and a network of volunteer initiatives that serves Chicago communities all year long. Cole takes his youth explorers on field trips to open their minds to new ideas and experiences in the hopes that it will change their world view and give them hope for their futures.
"I think you're a product of your expectations but I also definitely think your environment affects your wellbeing," said Cole. "We work with at-risk youth but I just think that the integrity of the whole city is at risk if we aren't supporting programs that work with youth."
Both Cohen and Cole spoke about how young people's experiences can differ based on location, specifically when you look at the difference between young people living on the north side of Chicago versus the south and west sides where violence has been normalized in many communities and there is a lack of economic investment.
Michelle Morales, CEO of Mikva Challenge Illinois, spoke during the panel about the importance of acknowledging and activating young people to remind them that their voices matter.
"At Mikva Challenge we look a lot at access to civics and civic engagement because we all know that unfortunately those numbers match every other number in terms of inequity and young people of color are not getting much access to civics," said Morales. "Young people in Chicago from any community are clamoring to get involved politically."
To view a full video of the panel discussion visit www.cityclub-chicago.org.