Citizen Honors South Side Educator For Teacher Appreciation Week
5/8/2019, noon | Updated on 5/8/2019, noon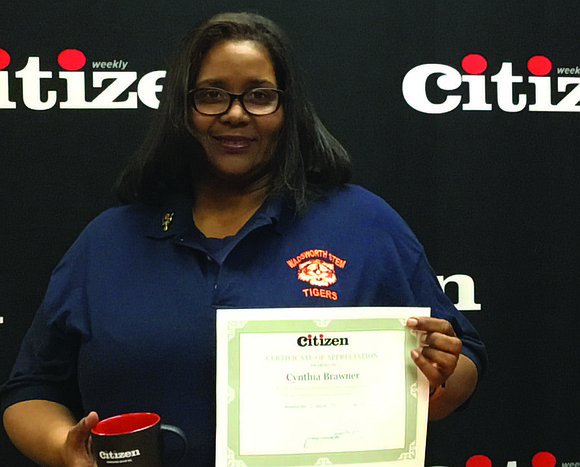 Citizen Honors South Side Educator For Teacher Appreciation Week
BY KATHERINE NEWMAN
This week is Teacher Appreciation Week across the U.S. and while there are a number of stellar teachers working in the City of Chicago, one stands out against the rest for her dedication to meeting the needs of her students and adapting with their changing interests to keep them engaged.
Cynthia Brawner is a graduate of CPS and grew up on the south side. She has been teaching for over two decades and is currently teaching third grade at James Wadsworth Elementary in Woodlawn where 96.6 percent of the student population is black, according to information from the CPS website.
"What made me come to CPS, outside of having summers off, was that I learned to appreciate the children I saw and realized that I had an opportunity to mold and help direct the minds of young people who are like me and come from a similar background and do really great things with them," said Brawner.
Wadsworth Elementary is a STEM (Science, Technology, Engineering, and Math) school and Brawner said that when the school first started incorporating STEM into the curriculum, she was nervous, but after throwing her self into learning about new technology and attending as many professional development days as she could, she found that she has a passion for STEM herself.
"The first two years I learned with my students but I did do a lot of professional development during the summer so I knew enough walking in that they didn't know that I didn't know as much as they thought," said Brawner.
Incorporating STEM into her classroom reignited a passion for technology learning that Brawner always had, but had put on the back burner as she pursued her career in education.
"We are heavy with the technology in our learning and not just traditional technology. What people often call technology is really just electronics but if you think about it, even an ink pen is technology and someone invented that," said Brawner. "As my students learned what I already knew I was learning even more and bringing that back to them."
In order to keep her students involved in their own learning experiences, Brawner has created a community in her classroom that goes beyond the students simply coming to class and listening to what she says. Brawner said that she always asks her students for input on what they are learning.
Because most of her students are black, Brawner has taken it upon herself to incorporate African American History into her lessons all year long and teaches the students not only about big name history makers but also local figures.
"I wanted to bring it back to the Woodlawn community so we looked at Bishop Arthur M. Brazier and Dr. Byron Brazier because those are kind of our change agents in this community and that gives them a sense of African American history not only being worldwide but also right in their back yard," said Brawner.