WEST SIDE HEALTH COLLABORATIVE HOSTS COMMUNITY FORUM TO SHARE THEIR 2019 VISION
3/13/2019, noon | Updated on 3/13/2019, noon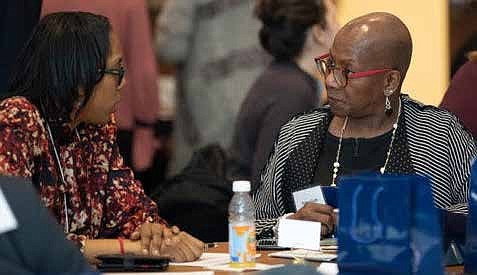 West Side Health Collaborative Hosts Community Forum to Share Their 2019 Vision
BY KATHERINE NEWMAN
West Side United, a community healthcare collaborative, recently hosted the Many Voices, One West Side event at Malcolm X College.
Community residents and stakeholders were invited to attend the free event and learn about West Side United's 2018 accomplishments and give their input on the organization's 2019 goals.
West Side United is a collaborative of six health institutions, Rush University Medical Center, AMITA Health, Cook County Health, Ann and Robert H. Lurie Children's Hospital of Chicago, Sinai Health System, and University of Illinois Health, who are working with west side residents and stakeholders to improve neighborhood health by addressing inequality in healthcare and education, economic vitality, and their physical environment.
During a community health needs assessment, these six institutions found that there was a significant gap in life expectancy between the downtown area and the communities they were working in on the west side.
For people who live in the Loop, the average life expectancy is 82 years old but when you go just west of downtown to the Garfield Park neighborhood that life expectancy drops to 69 years, according to data in the Chicago Health Atlas in the Health Chicago 2.0 report.
"West Side United began to build partnerships and look internally to see what resources residents had not only for their health and health care but also for economic vitality, what the neighborhood and physical environment is like, and the educational climate," said Ayesha Jaco, senior program director for West Side United.
The ten communities that West Side United is specifically targeting are Austin, Belmont Cragin, Humboldt Park, West Garfield Park, East Garfield Park, North Lawndale, South Lawndale, West Town, Near West Side, and Lower West Side.
The recent Many Voices, One West Side event gave attendees an opportunity to participate in an open forum and discuss those key focus areas of healthcare, education, economic vitality, and neighborhood environment with West Side United.
"We heard from the community and they have said four things. They want better educational opportunities for young people, they want jobs, they want safe communities, they want better access to care. So the premise of Many Voices, One West Side was to report back to them what we have heard, what we have done, and where we plan to go," said Jaco.
During the event, West Side United announced that they will be creating a Community Advisory Council which will be made up of community stakeholders that are 18 or older and who live or work on the west side.
These community members will be able to sit at the table with the West Side United executive council and hospital executives to provide feedback and input on what works in the community and what doesn't.
"They will really be our eyes and ears for the community," said Jaco. Aside from doing the community needs assessments, West Side United has hosted community listening sessions, supported community health
and mental health services, offered summer internships for high school students, invested in community development projects, and given 7 small businesses micro-grants.
To learn more about West Side United visit www.westsideunited.org.