SEVENTH ANNUAL APRIL FOOD DAY RESTOCKS SOUTH SUBURBAN FOOD PANTRIES FOR SUMMER
3/13/2019, noon | Updated on 3/13/2019, noon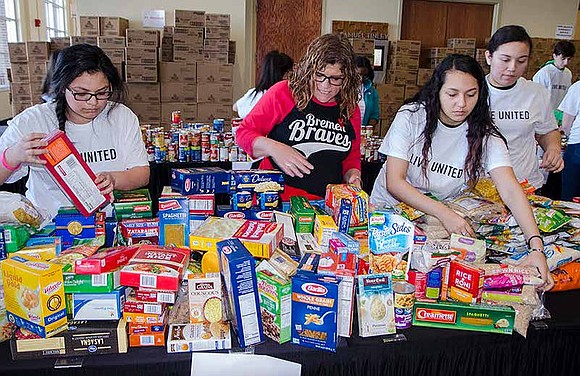 SEVENTH ANNUAL APRIL FOOD DAY RESTOCKS SOUTH SUBURBAN FOOD PANTRIES FOR SUMMER
BY KATHERINE NEWMAN
The seventh annual April Food Day food drive in Chicago's south suburbs is taking place now and will run through April 18. The food drive is hosted by the United Way of Metro Chicago's South-Southwest Suburban Regional Office and includes several leading partners from
the Chicago Southland hospitality industry.
The purpose of the April Food Day food drive is to help south suburban food pantries, some who are funded by the United Way of Metro Chicago and some who are not, to rebuild their inventory after the holiday season in preparation for summer.
"The one thing that has been consistent is that after the holiday season, many organizations really do need help restocking the pantries
and getting ready for the summer when kids are typically going to be out of school and looking for meals. It's important that we help them do that because we are not just a grantor, we are also partners and we help provide resources for our partner agencies," said Maya Hardy, chief professional officer for the United Way of Metro Chicago's South-Southwest Suburban Regional Office.
There are several pantries that receive food from the April Food Day food drive that are not United Way partners but they are included because "it's important that we take care of the entire region," Hardy said.
This years event will support food pantries in Ford Heights, Blue Island, Harvey, Richton Park, Park Forest, Tinley Park, Chicago Heights, and Orland Park.
"During the recent government shut down when federal employees weren't getting paid, a lot of our food pantries saw a huge increase in need because of that so you just never know what's going to happen and it's really important that we keep these pantries stocked. After April Food Day, I don't know when they will get their next big push until the holidays," said Hardy.
As partners for April Food Day, the Chicago Southland Convention and Visitors Bureau, along with many hotels, park districts, and municipalities throughout Chicago's south suburban region, will be collecting donations on site until April 18.
"If everyone just took 15 minutes to drop off one or two items, think of the difference that could make in the lives of people all over the Chicago Southland," said Jim Garrett, president and chief executive officer of the Chicago Southland Convention and Visitors Bureau. "We truly care about the community and the Chicago Southland hospitality industry has much to be proud of in the efforts to combat hunger around the region."
During last years April Food Day event, over 128,000 pounds of food was donated and distributed to area pantries. This year they are hoping to have an even greater impact and are looking for donations of canned fruits, canned vegetables, cereal, oatmeal, cookies, crackers, canned meats, infant supplies, laundry detergent, and toiletries.
For the latest up-to-date information on drop off locations, visit https://uw-mc.org/ event/april-food-day-2019/.