Global Corporation Launches Small Business Grant Competition
3/13/2019, noon | Updated on 3/13/2019, noon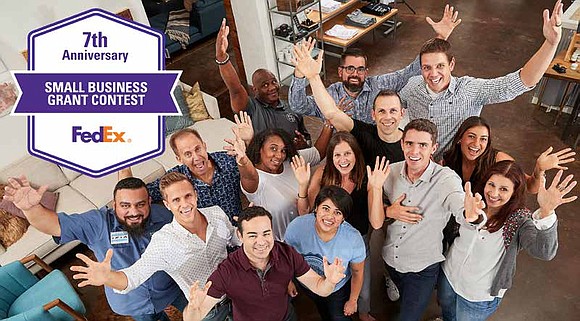 Global Corporation Launches Small Business Grant Competition
BY KATHERINE NEWMAN
For the seventh year in a row, FedEx is hosting a Small Business Grant Contest that is open to small businesses across the United States. This year, the company is offering 10 winning businesses a chance at winning grants and FedEx Office services from a collective prize pool of $220,500.
"The Small Business Grant Contest is just one example of how we create customized offerings to benefit a specific segment of our customer base. By introducing programs such as this one or our best-in-class loyalty program, it demonstrates the emphasis we place on customization and giving our customers the solutions that will best benefit their businesses, said Scott Harkins, senior vice president of Customer Channel Marketing at FedEx.
The $220,500 prize pool is the largest FedEx has ever offered in this programs 7-year history and will be divided among the 10 winners. One grand prize winner will receive a $50,000 business grant plus $7,500 in FedEx Office services, one silver prize winner will be awarded a $30,000 grant plus $5,000 in FedEx Office services, and eight bronze prize winners will walk away with a $15,000 grant plus $1,000 in FedEx Office services.
"In the U.S., small businesses create 60 to 80 percent of net new jobs annually, yet only 40 percent of these ventures survive the six-year mark. In many cases, small business owners are unable to build, sustain or grow their company due to lack of experience, information, funding or other resources," said Harkins. "This is why we support entrepreneurship and created the FedEx Small Business Grant Contest. We are dedicated to providing aspiring entrepreneurs with both the tools and the means they need to launch or grow their business."
Last year's Grand Prize winner was Chicago's own Rumi Spice, a small business based in the Back of the Yards neighborhood that imports saffron from Afghanistan. It has been one year since they won the FedEx Small Business Grant Contest and their winnings have helped the company improve their supply chain that brings saffron from Afghanistan to Chicago where they are able to package it and send it to restaurants and consumers all over the country.
"At FedEx, we believe in the people who are willing to dream, take risks, persevere and change the world for the better. Helping small businesses grow is good for everyone. It paves the pathway to success for small business owners, helps grow both the US and the global economy, and ultimately creates more opportunity for everyone to succeed," said Harkins.
The 2019 FedEx Small Business Grant Contest is open to for-profit small businesses that have less than 99 employees and have been operating for six months or more. The contest entry period is open from now until March 25 and voting will take place from now until April 1. Winners will be announced on April 29. To enter, visit www.fedex.com/grantcontest.