Over 50 High School Students Practice Professional Networking In Downtown Chicago
3/6/2019, noon | Updated on 3/6/2019, noon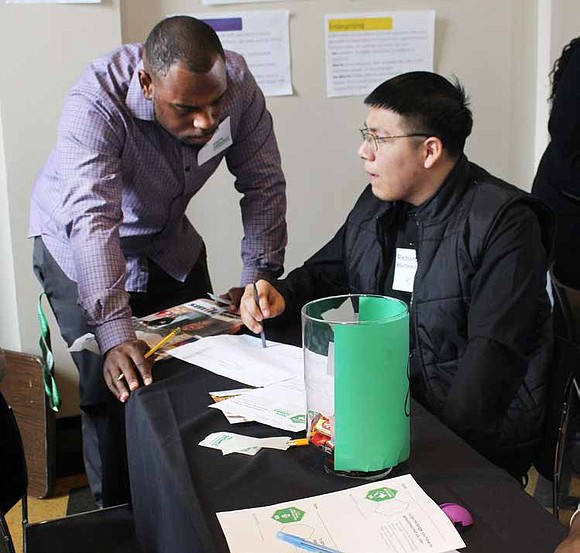 Over 50 High School Students Practice Professional Networking In Downtown Chicago
BY KATHERINE NEWMAN
Juniors and seniors from Chicago Public High Schools across the city recently traveled to the Loop for a day of professional networking, resume building, and mock interviewing.
The career development workshops were presented by Youth Guidance, a local nonprofit, and Bank of America who hosted the event and provided 30 professional volunteers to work with students as mentors for the day.
Youth Guidance is an organization that creates and implements school-based programs, like the Becoming A Man (BAM) and Working on Womanhood (WOW) programs, to help young people overcome the obstacles they face and focus on their education.
The recent career-focused training and networking event was part of the @Work curriculum from Youth Guidance which is designed to help at-risk youth develop their professional identity and navigate workplace opportunities, according to the Youth Guidance website.
"In the @Work program, we go through a series of lessons and they are more focused and geared towards skill readiness. Right now the students are focusing on networking and how to build a resume and cover letter.
They are also learning the basic fundamentals of how to come in and hold a conversation and how to interview," said James Bowen, the BAM @Work specialist.
There were about 50 students in attendance at the full-day event and they were all able to participate in resume building, mock interviews, and professionalism workshops.
In addition to the workshops, students were able to learn about a variety of jobs that exist in finance and meet professional mentors that currently work for Bank of America.
"I am hoping to get a lot out of the networking by meeting more people so that if I do decide to stay in Chicago for college, then I would like to hopefully run into some people that I meet today for a job. Hopefully, they will still remember me so that I can have my foot in the door and I can get the job," said a high school senior from Hyde Park who participates in the WOW program and who attended the recent @Work event.
The student said that she has had trouble finding a job and is confident that by now having a professional resume, networking experience, and practice with interviewing, she will have a better chance at getting hired.
"[@Work events] help teenagers get out there more because it's very hard finding a job. I couldn't find a job when I turned 16 or 17 but we need jobs as teenagers because there is a lot of stuff that we go through and our parents can't always do everything or give us everything that we want or need," said the student from Hyde Park.
The most recent @Work partnership is just one example of the longstanding relationship between Bank of America and Youth Guidance.
"Our Bank of America employees are always encouraged to volunteer and to put their time into a community effort," said Julie Chavez, community relations manager for Bank of America.