Local Couple Presents Natural Hair Care Line To Investors On Shark Tank
3/6/2019, noon | Updated on 3/6/2019, noon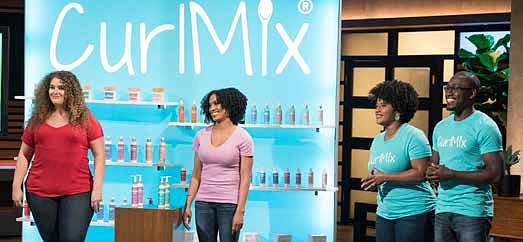 Local Couple Presents Natural Hair Care Line To Investors On Shark Tank
BY KATHERINE NEWMAN
Kim and Tim Lewis are high school sweethearts, parents, and co founders of CurlMix, a clean beauty brand for curly hair. The pair recently had an opportunity to pitch CurlMix to a panel of big name investors on the mid-season premiere of ABC's Shark Tank.
"We cater to women with naturally curly hair and our goal is to, number one educate women about how to care for their hair and then number two, to give them the best products for wash and go styles. That's kind of our bread and butter, giving you the best curly styles you can achieve using our all natural and organic products," said Tim Lewis, co-founder of CurlMix.
Though CurlMix is at the forefront of this couples entrepreneurship endeavors today, it was not their first business venture. Originally, they created a social networking platform for people with curly hair but when it became apparent that this business model wasn't going to be successful, they looked to start something completely different that would be profitable from day one and that was CurlMix.
"After our first business failed we knew that with the next business we started, we wanted to make money on day one and we also wanted to have some kind of impact and make sure we didn't repeat the same mistakes and that's how CurlMix came about," said Lewis.
Kim was already making do-it- yourself hair products at home because, like a lot of women, she didn't trust the products that were on the shelves at drug stores. The couple used her knowledge of how to make organic and natural hair care products at home and turned it into their next business idea.
CurlMix debuted in 2013 as a subscription-based do-it-yourself hair care box service. After a few years of success and then reaching a plateau, CurlMix underwent one final transformation after hearing from customers that they loved the products but didn't have time to make them at home. Tim and Kim decided to ditch the boxes and become a full hair care line which instantly catapulted them to success.
"We did a small batch of about 100 flax seed gels just to see if people wanted it and we sold out within like an hour," said Lewis. "We opened it up again and we sold out in hours. Then we opened up another hundred and we sold out in hours again, so we knew we were onto something," said Lewis.
After years of trial and error, CurlMix was ready to go to the next level so Kim and Tim auditioned for Shark Tank and were selected to be one of the few teams, out of 30,000 applicants, to advance and pitch their idea to the show's panel of high powered investors.
"When we got out there in front of the Sharks and in front of the lights, we were both like wow this is really happening. We had practiced so much that we could do it in our sleep," said Lewis.
To learn more about CurlMix visit www.curlmix.com