Santana's Thrilling New Album 'Africa Speaks' Debuts At #3 On Billboard Top 200
6/26/2019, noon | Updated on 6/26/2019, noon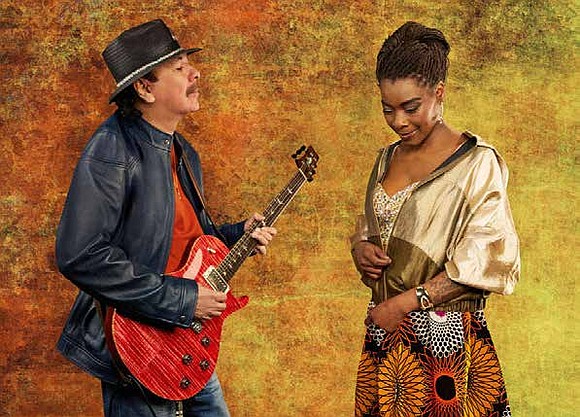 Santana's Thrilling New Album 'Africa Speaks' Debuts At #3 On Billboard Top 200
Music legend Carlos Santana's new album Africa Speaks, out now via Concord Records, has debuted at #3 on the Billboard Top 200 Chart. Santana surpassed the Rolling Stones and, along with Barbara Streisand, is one of only two music acts in Billboard history to score at least one Top Ten album for six consecutive decades from the 1960s on. This is Santana's third Top Ten release this decade and his highest charting debut since 2005's All That I Am. Additionally, Africa Speaks
debuted #1 on both the Billboard Rock Albums and Billboard Latin Albums charts.
Santana has amassed an iconic body of work by pioneering a unique fusion of rock, Latin and jazz. On Africa Speaks, the Rock and Roll Hall of Fame guitarist
goes deeper and further than ever before to create one of his most groundbreaking albums yet.
Inspired by the melodies, sounds and rhythms of Africa, he enlisted legendary producer Rick Rubin, convened with his band at Rubin's Shangri La Studios in Malibu, and recorded an astonishing number of tracks, many of them in one take.
Another dramatic element in the creation of Africa Speaks came in the form of Spanish singer Buika, whose heavenly lead vocals cast a magical spell throughout the album.
Carlos Santana said, "It is an honor to share my hearts music with the world. This music gives people hope and courage. We call it mystical medicine music
for a twisted, crooked world. The incredible synergy between Buika, Cindy Blackman Santana, the magnificent Santana Band, Rick Rubin and Concord Records made this masterpiece of joy come to fruition. Now more than ever, this
is the consciousness that the world needs."
"Fifty years after his 'Soul Sacrifice' made hippies' jaws drop all over Woodstock, Carlos Santana's guitar playing remains a force of nature…Woodstock was 50 years ago; this is Santana now. The spirit is the same, yet somehow it's even freer." - Rolling Stone
Africa Speaks track listing:
Africa Speaks (4:47)

Batonga (5:43)

Oye Este Mi Canto (5:58)

Yo Me Lo Merezco (6:12)

Blue Skies (9:08)

Paraísos Quemados (5:59)

Breaking Down The Door (4:30)

Los Invisibles (5:54)

Luna Hechicera (4:47)

Bembele (5:51)

Candombe Cumbele (5:36)
Santana on the web: Official Site: www.santana.com Facebook: www.facebook.com/ carlossantana Instagram: www.instagram.com/
carlossantana, Twitter: www.twitter.com/ santanacarlos
YouTube: www.youtube.com/ santanaofficial