Professional Track and Field Athlete Says Perseverance Has Carried him Through Tough Times
6/12/2019, noon | Updated on 6/12/2019, noon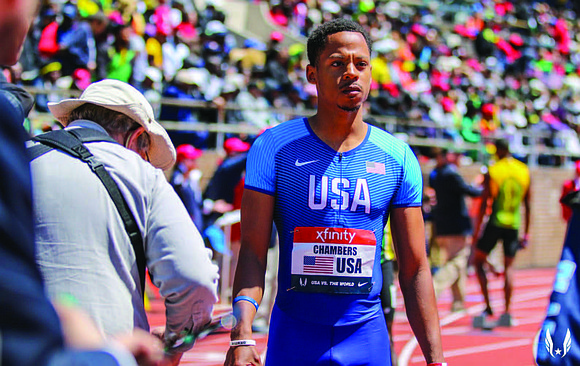 Professional Track and Field Athlete Says Perseverance Has Carried him Through Tough Times
BY KATHERINE NEWMAN
Marcus Chambers is a professional track and field athlete from Tacoma, WA, and has won several state and national awards during his career. Chambers is a Nike Athlete, training for the 2020 Olympics in Tokyo, and is a perfect example of how perseverance can help you to achieve your goals.
Chambers is a track and field athlete now but didn't actually discover his love of running until high school. He played various sports and was always known for being fast but never thought he would enjoy track.
"I played sports as a youngster. I played baseball, soccer, basketball, football, and all sports really but I never thought track was anything to participate in because I was really into the team stuff and I liked to play sports with my friends but the one common thing that I always had was speed," said Chambers.
During his freshman year of high school, Chambers decided to try running track and said that after his first week of practice, he fell in love with the sport and over the span of four years, he won four state championships and was a two time Jr. Olympic Champion.
"It was fun, and not just because I was always winning," said Chambers. "My dream of the Olympics came up because after my first race, I watched a video of the Olympics and then that's when the dream started rolling. I wanted to know if I could make it that far and at that time I had no clue but I wanted to see."
Chambers is a Nike Athlete which means that he is sponsored by Nike and he is a representative of their brand and held to a very high standard of athleticism.
"Nike is one of the top sporting brands in the world and so for a company like that to say they believe in me and they want to help me continue pursuing your dream of competing in the Olympics is like, I couldn't ask for anything better," said Chambers. "The one thing about it though is that when you are with the top brands out there, they expect results so there is a lot of pressure."
Throughout his career Chambers has dealt with pressure in a multitude of ways. From excelling as a freshman on the high school track team to struggling as an athlete during his first year of college to now being sponsored by Nike and preparing to compete for a spot in the Olympics, he said that perseverance and maintaining his self-confidence is what has gotten him through those tough times.
"I want to inspire the youth to persevere and to push through the tough times, whether it's mentally or whether it's physically. If you really want to reach your dream, you have to persevere and you have to push through when you get knocked down. I got knocked down multiple times in sports, even at the professional level, but realistically, I just have to push through because I know my time is coming," said Chambers.
To learn more about Chambers and keep up with his training follow him on Instagram @marcuschambers400.