Mental Health Professionals And Chicago Police Host Public Forum On Violence And Trauma
6/12/2019, noon | Updated on 6/12/2019, noon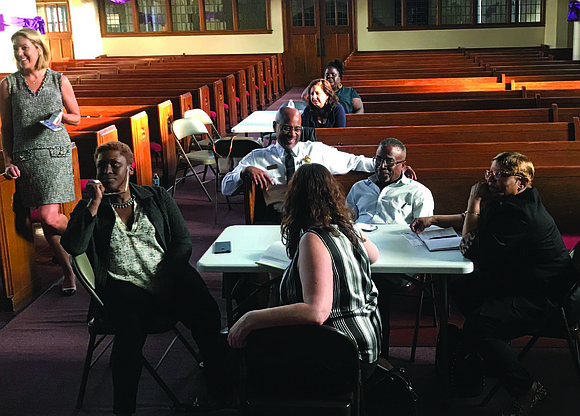 Mental Health Professionals And Chicago Police Host Public Forum On Violence And Trauma
BY KATHERINE NEWMAN
The National Alliance on Mental Illinois (NAMI) Chicago recently led a community discussion on the westside at Hope Community Advent Christian Church, 5900 W. Iowa St., in Austin to talk about how the community deals with trauma that is caused by violence and what can be done better.
The discussion included community members, local police officers, elected officials, and mental health professionals who all came together to share their thoughts on what is working and what still needs to be done in the neighborhood.
NAMI Chicago is a nonprofit organization that works to provide hope and improve the quality of life for those whose lives are affected by mental illness. NAMI has stepped in across the city, but specifically on the west side, to connect violence with the trauma it causes and provide mental health resources.
"Trauma changes us. Not everyone is traumatized when they experience something so unbelievable but it does change our experience and it literally changes our brain and it changes the way our body functions," said Alexa James, executive director of NAMI Chicago.
The first step in addressing trauma that is caused by violence is to acknowledge that it exists which has been a struggle, according to Marlena White from the Department of Public Health.
"During her inaugural address, the Mayor talked about her interest in this and even just hearing her say the word trauma was so important because there are people who have been working just to get elected officials to say the word trauma because it opens the door for the work that needs to be done," said White.
During the public meeting, attendees were split into groups and were asked to write down what services and resources existed in the community for addressing trauma and what was missing. Most of the groups agreed that there are strong after-school programs, churches, and nonprofit organizations that are making an impact in the community but all of the groups also agreed that more needed to be done.
"We will never have enough therapists to help everyone but some of this work does not belong to therapists, it belongs to the people who are standing shoulder to shoulder and who live together and drive on the street together. Those are the people that are the first responders," said White.
State Representative Camille Lilly represents the 78th district and attended the meeting to participate in the conversation. She shared that the state of Illinois will be dedicating $22 million to the Trauma Recovery Center program and $1 million will be dedicated to trauma recovery resources in Austin.
"When we think about violence and trauma we are talking about these instances that so far stretch what you think is your capacity to have a better tomorrow," said White. "Unfortunately there are lots of us who have lots of those times where we can say I haven't felt the same since that one thing happened."