MAYOR MAKES SOUTH SIDE ALDERMAN A CITY HALL BOSS
6/12/2019, noon | Updated on 6/12/2019, noon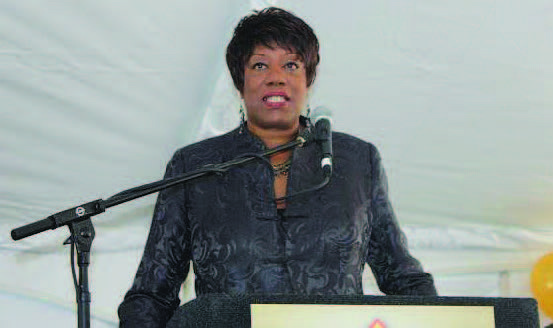 Mayor makes South Side alderman a City Hall Boss
BY WENDELL HUTSON, Contributing Writer
She may not be the most powerful black woman at City Hall but with her recent appointment as chairman of the City Council's budget committee, South Side Alderman Pat Dowell (3rd) is among the new political bosses downtown.
Next to the finance committee, which is considered by many City Hall insiders as the most powerful city committee, Dowell takes the helm of the second most powerful committee.
In 2018, Dowell served as a member of Gov. J.B. Pritzker's gubernatorial transition's Job Creation and Economic Opportunity Committee and also as a member of the City Council's housing and real estate, transportation and the public way, landmarks, rules and health committees.
The former deputy commissioner of planning for the city earned a bachelor's degree in developmental psychology from the University of Rochester (New York) and a master's degree in Social Service Administration from the University of Chicago.
In fact, the City Council has 18 committees chaired by black aldermen, seven whites and two Hispanics. And besides Dowell, the other eight black chairmen are Ald. Carrie Austin (34th), contracting oversight and equity; Ald. Emma Mitts (37th), license; Ald. Howard Brookins (21st), transportation; Ald. Michael Scott (24th), education; Ald. Roderick Sawyer (6th), health and human services; Ald. Chris Taliaferro (29th), public safety; Ald. Michelle Harris (8th), rules; and Ald. Walter Burnett (27th), traffic. Mayor Lori Lightfoot, who appoints all committee chairs, broke away from tradition and did not make appointments based on seniority.
"Chicago residents are excited for change, and that includes making City Council more responsive and accountable, which we've started by shaking up our committees and chairmanships," Lightfoot told the Citizen. "We still have a long way to go, but I am proud of the first steps we've taken in creating a city that is stronger, more fair, and more prosperous for all Chicagoans."
As the city's first, black female mayor, Lightfoot said she couldn't be happier to have Dowell as part of her leadership team.
"I am excited to work with her in this new era of transparency and integrity in city government. As one of the council's most senior members, Alderman Dowell brings both a wealth of experience and a fresh perspective to the role of budget chairwoman," added Lightfoot. "Importantly, Alderman Dowell and I share a vision for opening up the budgetary process in a more transparent way to ensure that ordinary Chicagoans can see how their hard earned tax dollars are spent and weigh in on spending priorities."
The appointment caught Dowell, whose ward includes Englewood, Bronzeville and the South Loop, by surprise.
"You can't turn the mayor down, so I am taking on this challenge," said Dowell.
"One goal I have is to make sure the public has a better understanding about how the budget process works. I want to find new ways to eliminate waste and achieve savings within the city's budget."
Dowell will have her first committee meeting in July and added she is excited to hit the ground running.