Local Entrepreneur Teaches Young People About Business Development
6/12/2019, noon | Updated on 6/12/2019, noon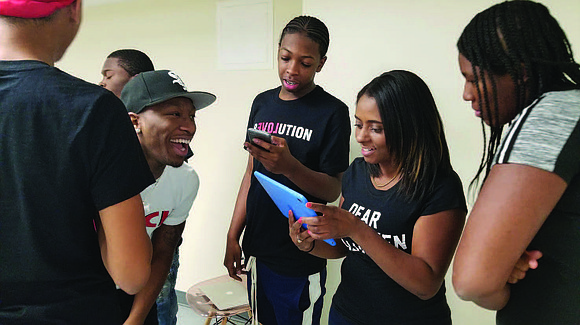 Local Entrepreneur Teaches Young People About Business Development
BY KATHERINE NEWMAN
Growing up in Englewood, Candice Cunningham said she didn't have much exposure to entrepreneurship but because of her persistent curiosity, she was able to learn how to be a successful business owner.
"I did not see a lot of entrepreneurship first hand but what I did see was a difference between where I lived and where I would go to school. My mom always sent me outside of my community to get my education which exposed me to people from other places who came from more affluent families and that made me curious. I was trying to figure out why my friends had parents who owned their own business but in my community that wasn't the case," said Cunningham.
After launching several successful online businesses, like looklav.com, Cunningham is now working to give young Chicagoans the exposure that she never had by providing them with the opportunity to participate in a 16-week Entrepreneurial Training Program.
The Entrepreneurial Training Program is the flagship program for The Black EcoSystem which is a concept that Cunningham created to serve as a network of resources for struggling communities and specifically black communities.
"I wanted to create a network of resources so we can handle a variety of problems all at one time like poverty, mental health issues, lack of opportunities, family conflict, and homelessness. All of these things need to be addressed together in order for it to be effective," said Cunningham.
On June 27 from 5 p.m. to 9 p.m., Cunningham, along with the students from the inaugural Entrepreneurial Training Program, will host the Rise Collection Apparel Pop-up event at 1023 S. Delano Court where people will have a chance to shop the clothing line that the students created.
"We work with teenage students from disadvantaged neighborhoods, like Englewood and Auburn Gresham, and we expose them to entrepreneurship. We come up with a concept for a business and they are my business partners. I walk them through how to take their ideas from concept to actually implementing them and we discuss product development, how to put it online, and how to work with one another," said Cunningham.
The students who participate in the Entrepreneurial Training Program will stay attached to the program and to Cunningham for as long as their businesses exists and will get to lean on her as a business mentor.
"They are literally my business partners," said Cunningham. "It's up to me to find balance and to make these kids feel included because they are my business partners and I don't want them to feel like I'm trying to control them and their decisions but at the same time, I'm teaching them entrepreneurship."
To learn more about the Entrepreneurial Training Program and The Black EcoSystem visit www.blackecosystem.org.