Family Memorializes Daughter By Hosting Orange Peace Party In Pendleton Park
6/12/2019, noon | Updated on 6/12/2019, noon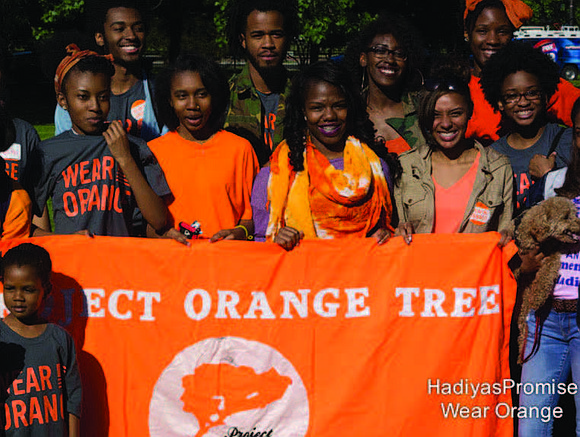 Family Memorializes Daughter By Hosting Orange Peace Party In Pendleton Park
BY KATHERINE NEWMAN
Hadiya Pendleton was 15 years old when her life was cut short and she was shot to death on Jan. 29, 2013, while standing in the park with her friends. In order to honor her memory and to call for an end to senseless gun violence in Chicago, Pendleton's parents recently hosted the fifth annual Orange Day Peace Party in Hadiya Pendleton Park, 4345 S. Calumet Ave., on the south side.
"The motivation behind this event is to basically bring awareness to gun violence and bring out people that have been affected by gun violence," said Nathaniel Pendleton, Hadiya's father. "We want to bring everyone together to send out a message that we need to stop killing each other."
Every year, the Orange Day Peace Party takes place during the first weekend in June which coincides with Gun Violence Awareness Week and with Hadiya's birthday.
"We do this every year during the first weekend in June which falls on my daughter's birthday and we wanted to have a celebration of her life and a celebration of the beginning of the Gun Violence Awareness Week," said Pendleton.
All who attend the event are encouraged to wear orange as a symbol of gun awareness.
"When my daughter got killed, a group of friends from her school created a group called Operation Orange Tree and basically they would wear orange because hunters wear orange when they are in the wild to let people know not to shoot them. So on that same accord, they decided to wear orange to say don't shoot us," said Pendleton.
After Hadiya's death, her parents created Hadiya's Promise which is a nonprofit organization that is working to combat gun violence in Chicago and the theme for this year's event was Maintaining the Promise.
"We did give a promise when we created Hadiya's Promise and we said that we are going to stick with this and we're not going to fall off so right now we are maintaining that promise to the community and to the people," said Pendleton.
Going forward, Pendleton said he sees no signs of stopping anytime soon. They plan to continue growing the Orange Day Peace Party and continuing to maintain Hadiya's Promise.
"I expressed to my wife a long time ago that I want this party to stop traffic. I want it to be so big that it stops traffic and maybe for a couple of hours, Chicago gets to look at this picnic and say I'm not gonna shoot someone, I'm gonna go ahead and party today," said Pendleton.