Chicago At The Crossroads Premieres at the American Black Film Festival
6/12/2019, noon | Updated on 6/12/2019, noon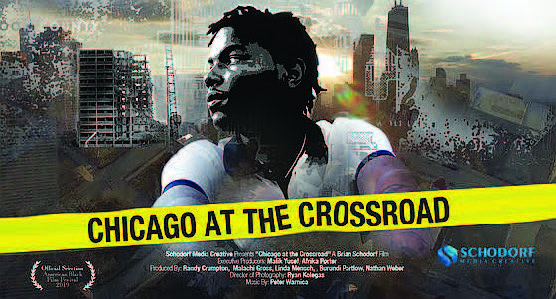 Chicago At The Crossroads Premieres at the American Black Film Festival
As Chicago welcomes its history making new mayor, Lori Lightfoot, many residents are hopeful for a brighter future. "I am very optimistic about the new mayor," begins Community Activist Afrika Porter. "She has talked a lot about reducing violence, putting more education programs in schools, building more schools that fit to the needs of our children in our community…. I think she is going to do exactly what she said she is going to do."
Porter's activism, especially with young people, has positioned her to see problems in the community and to also offer solutions. Some of those solutions are documented in the new film "Chicago at the Crossroad."
Porter is an Executive Producer for a film by Schodorf Media Creative, written, directed, and produced by Emmy Award winner Brian Schodorf. Porter and Schodorf recently announced the film as one of only 5 documentaries set to screen at the prestigious American Black Film Festival; June 12-16 in Miami.
This honor kicks off a tour of screenings and festivals for the film; traveling to share the film's important perspective to urban areas and wherever it can help… including the new mayor's office.
"We made this film to tell the story of a past that created the present," says Brian Schodorf. "With an overwhelming number of headlines about gun related deaths, we wanted to know why?… and we wanted to offer solutions."
Chicago at the Crossroad opens a rare historical window into the systematic creation of poverty stricken communities plagued by gun violence. Chicago as a case study, the film sparks thought on how we got here and what we can do today to reduce violence… a message that the new Mayor and city leaders should hear.
ABOUT: CHICAGO AT THE CROSSROAD - 2019 | USA | 80 min World Premiere at ABFF Written & Directed by: Brian Schodorf Produced by: Brian Schodorf, Afrika Porter, Nathan Weber, Randy Crumpton, Malik Yusef, Burundi Partlow, Malachi Gross, Ryan Kolegas, Linda Mensch, Director of Photography: Ryan Kolegas
Principal Subject(s): Malik Yusef, Leonard GLC Harris, Rev. Jesse Jackson, Father Michael Pfleger, Arne Duncan
For more information, visit https://www.chicagoatthecrossroad.com FaceBook: https://www.facebook.com/chicagodocumentary Instagram: @chicagoatthecrossroad