The Jazz Institute of Chicago Celebrates "50 Years of Making Jazz Happen" Featuring Jazz Artists, Music, Dance and Spoken Word Performances, and Exhibits During Free Birthday Bash
Chicago's Own Orbert Davis, DJ Duane Powell, Nicole Mitchell and Maggie Brown Among Music Standouts at June 28-30 Extravaganza
6/5/2019, noon | Updated on 6/5/2019, noon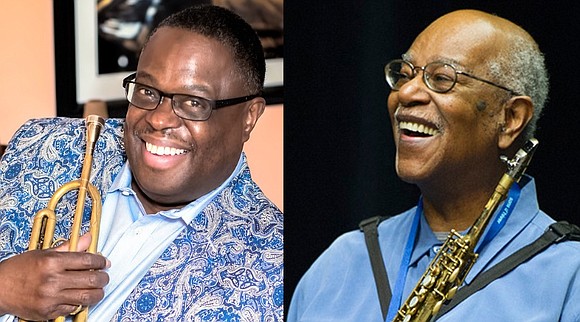 Dating back to its first concert in 1969, explained Ireland Robinson, the Jazz Institute played a major role in the development and growth of jazz nationally and worldwide, and the Birthday Bash is the celebration of those contributions.

Among nearly two dozen music, dance and spoken word performances planned for the Birthday Bash are these highlight events:
*Friday, June 28
Freedom Jazz Dance presented by Soundrotation at Connect Gallery – Join music historian and DJ Duane Powell for an interactive session exploring jazz as dance music. The session also will include a special performance choreographed by dance legend Amaniyea Payne of Muntu Dance Theatre. 5 – 7 p.m., 1520 E. Harper Court
*Birthday Surprise Concert at The Promontory to celebrate the diversity and featuring special guest artist Makaya McCraven, the renowned drummer, producer and sonic collagist. McCraven is one of Chicago's savviest cultural players and a multitalented force whose inventive process and intuitive, cinematic style defy categorization. He will be joined by Junius Paul, Matt Gold, Greg Ward and Irvin Pierce. 8 – 10 p.m., 5311 S. Lake Park Ave.
*Saturday, June 29 at the Logan Center for the Arts, 915 E. 60th St.
*Jazz Links Emerging Artists Project Ensemble (Café Logan, 1 – 2 p.m.)
*UNDU: Nicole Mitchell, Jonathan Woods, Tatsu Aoki and the MIYUMI Project. (Performance Hall, 2 – 3 p.m.) This original project was commissioned exclusively for the Bash,
*Panel discussions: "Black and White: An Examination of Segregation and the Jazz Life on Chicago's South Side" (Screening room, 2nd floor, 4:30 – 5:30 p.m.) and "Digging Our Roots: Chicago's Greatest Hits – The Singers" (Screening room, 2nd floor, 6 – 7 p.m.)
*Sunday, June 30 at the Logan Center for the Arts, 915 E. 60th St.
*The Orbert Davis Quintet featuring Ari Brown – vibe with the legendary Orbert Davis on trumpet; Ari Brown on the saxophone; Leandro Lopez Varady on the piano; Stewart Miller on bass; and Ernie Adams on the drums. 7:30 – 8:30 p.m.
*"J is for Jazz" children's play (Penthouse, 9th floor, 2 – 3 p.m.) This original play will debut at the Bash.
*"The City Was Yellow: Jazz & Improvised Music 1980-2010" Book release and panel discussion (Screening room, 2nd floor, 5:30 – 6:30 p.m.)
"It's hard for me to imagine that the Jazz Institute of Chicago is 50 years old, except for the fact that almost every milestone in my career has been a result of JIC's ingenuity, dedication and support," noted Orbert Davis, Emmy-Award winning trumpeter, composer and educator and co-founder, conductor and artistic director of Chicago Jazz Philharmonic. "JIC is the 'hub' for Chicago Jazz; a driving force that preserves rich cultural legacies while forever fostering the 'new'."

Mark Kelly, commissioner of the Department of Cultural Affairs, added, "Congratulations and thank you to the Jazz Institute for promoting and nurturing jazz in Chicago for 50 years," said Mark Kelly, Commissioner of the Chicago Department of Cultural Affairs and Special Events. "The Jazz Institute has been our partner on the Chicago Jazz Festival since its inception more than 40 years ago. The Festival and the Birthday Bash both reflect the power of jazz music to unify us all. And the fact that the Bash is free and represents the exciting depth and breadth of Jazz Institute programming makes it a must-do summer event."
Partners for the Bash are: Logan Center for the Arts, The Promontory, Connect Gallery, Columbia College Chicago, Asian Improv aRts, Jazz Journalists Association, M.A.D.D. Rhythms, Chicago Film Society, The Stillwell Institute, and Cerqua Rivera Dance Theatre.
The Jazz Institute of Chicago's concert and education programs are created to bring jazz directly to communities throughout Chicago and include the Jazz Links education programs; a series of programs for teachers, elementary, high school and college students designed to expand their knowledge through mentorship and performance; performance opportunities for emerging artists; and the Chicago Jazz Festival, produced by the City of Chicago Department of Cultural Affairs and Special Events and programmed by the Jazz Institute of Chicago since 1979. For full program schedules, more information on membership or how you can support jazz in Chicago, visit jazzinchicago.org or follow us on Facebook, Twitter or Instagram.