The Jazz Institute of Chicago Celebrates "50 Years of Making Jazz Happen" Featuring Jazz Artists, Music, Dance and Spoken Word Performances, and Exhibits During Free Birthday Bash
Chicago's Own Orbert Davis, DJ Duane Powell, Nicole Mitchell and Maggie Brown Among Music Standouts at June 28-30 Extravaganza
6/5/2019, noon | Updated on 6/5/2019, noon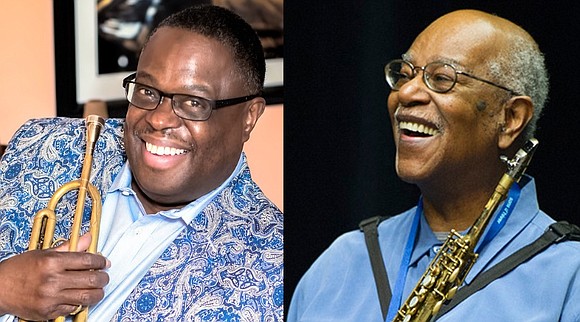 The Jazz Institute of Chicago Celebrates "50 Years of Making Jazz Happen" Featuring Jazz Artists, Music, Dance and Spoken Word Performances, and Exhibits During Free Birthday Bash
Chicago's Own Orbert Davis, DJ Duane Powell, Nicole Mitchell and Maggie Brown Among Music Standouts at June 28-30 Extravaganza
The distinct, innovative sound and legacy of jazz music in Chicago takes center stage from June 28 -30 for Chicagoans of all ages to enjoy as the Jazz Institute of Chicago (JIC) and its partners celebrate "50 Years of Making Jazz Happen" during a multi-event, free Birthday Bash weekend at venues in Hyde Park.
Dedicated to preserving and perpetuating jazz as a true American art form and as a legendary staple in the city's storied music scene, the JIC is collaborating with an array of local partners to celebrate the beauty, diversity and rich history of Chicago's vibrant jazz scene at multiple events on June 28-30 at Connect Gallery, 1520 E. Harper Ct.; The Promontory, 5311 S. Lake Park Ave. W; and the Reva and David Logan Center for the Arts at 915 E. 60th St.
Known for its inventive and collaborative spirit, , the JIC has successfully partnered for half a century with musicians, cultural institutions, community organizations and city agencies to showcase the distinctly innovative DNA of Chicago jazz. Free and open to the public, the Birthday Bash will feature commissioned world premiere music; renowned Chicago jazz musicians including Orbert Davis, Maggie Brown, Joan Collaso, and a virtual performance by Nicole Mitchell; community discussions; performances by exciting, emerging jazz artists; and poetry, visual art and dance as art forms that enjoy a long-time, mutually beneficial relationship with jazz music.
Sponsored by the Epstein Family Foundation and presented in partnership with the Logan Center for the Arts, the Birthday Bash also will engage families with children who can watch an original play and participate in art-making activities.
"We couldn't be more excited and honored to invite the entire city and Chicagoans of all ages to help us celebrate 50 Years of Making Jazz Happen," said JIC Executive Director Heather Ireland Robinson, who emphasized the non-profit's commitment to expose a new wave of inventive jazz artists to new audiences. "What better way to connect the community to the rich, vibrant jazz culture by offering three days of free events and activities to celebrate this wonderful art form that has helped define multiple generations. We look forward to joining our many partners, supporters and music peers in celebrating the Jazz Institute's contributions and the mastery of our local jazz artists."
Ireland Robinson added: "We are very much committed to celebrating our robust history while keeping our eye on the future. We continue to nurture and promote jazz citywide through education programs that support all aspects of a young artist's career and musicianship, as well as free public programming in city parks, and of course programming the Chicago Jazz Festival. We believe in building bridges by creating programs in neighborhoods and presenting music where people of all ages live, work and play."