SOUTH SIDE NEIGHBORHOOD GROUP STRENGTHENS COMMUNITY THROUGH WEEKLY WALKS
7/17/2019, noon | Updated on 7/17/2019, noon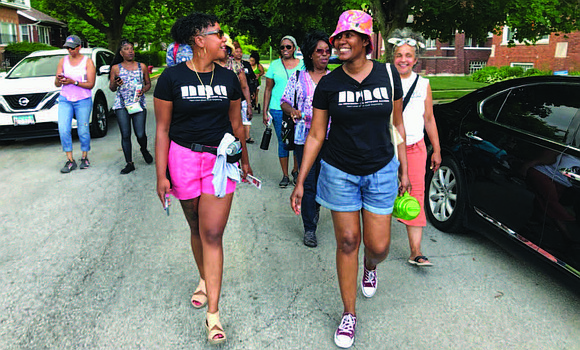 South Side Neighborhood Group Strengthens Community Through Weekly Walks
BY KATHERINE NEWMAN
For the last few weeks, residents of South Shore have been coming together for a Tuesday evening walk as part of the Neighborhood Network Alliance's Walk, Stroll, Talk program. During the weekly event, community members are encouraged to walk, talk, and get to know each other better as a way of strengthening the community.
The Neighborhood Network Alliance at its core is a block club organization that helps neighborhood residents to collectively revitalize their communities by creating networks. The organization provides residents with effective methods for organizing and collaborating with each other and with community leaders, businesses, elected officials, and government agencies to build a thriving community, according to information from the Neighborhood Network Alliance.
"What we are is an organization that convenes block club leaders and we provide resources to block club leaders to organize the block club. We provide services to them and we train block club leaders in basic day to day operations of organizing and maintaining their block clubs," said Val Free, lead steward for the Neighborhood Network Alliance.
With initiatives like the Walk, Stroll, Talk program, the Neighborhood Network Alliance is trying to separate itself from old stereotypes that are attached to block clubs and reach a younger generation by creating neighborhood networks.
"We hear Millennials and Gen Xers say that they don't want to be part of the block clubs because the traditional block club for them is known for the block parties, the CAPS meetings, they were the snitch group and the elder club. They never see block clubs for the capacity that they could be and the power that they could have if we were able to tap into the human capital that exists on a block by block basis," said Free.
The Walk, Stroll, Talk program has several goals that include building a strong social circle, a local business network, creating support for families, building a network of community advisors, and creating an overall source of help that residents of South Shore can turn to.
Residents are invited to meet at Rosenblum Park, 7547 S. Euclid Ave., at 6 p.m. every Tuesday and begin their walk from there.
The Tuesday night walks are just the beginning of the Neighborhood Network Alliance's bigger plans for community building in South Shore, according to Free.
"The bigger plan is to get to know our neighbors and build up our public safety network so that we can create a culture of community accountability where we can hold one another accountable. The first step in doing that is getting to know who's on the block and letting them get to know who we are as well. From there we can come up with a neighborhood plan that the community can get behind," said Free.
To learn more about the Neighborhood Network Alliance and the Walk, Stroll, Talk initiative visit www.thenna.org or follow the Neighborhood Network Alliance on Facebook.