SOUTH SIDE ACTIVIST HONORED WITH INAUGURAL LEADERS FOR A NEW CHICAGO AWARD
7/17/2019, noon | Updated on 7/17/2019, noon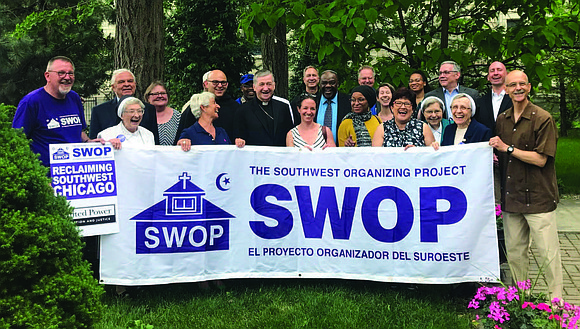 South Side Activist Honored With Inaugural Leaders for a New Chicago Award
BY KATHERINE NEWMAN
The Field Foundation recently announced the 14 recipients of its inaugural Leaders for a New Chicago award. One winner, Imelda Salazar is a long-time activist who first began advocating for the south side of Chicago as a community member and over time she emerged as a lead organizer for the Southwest Organizing Project (SWOP).
The Field Foundation's Leaders for a New Chicago awards are supported by a $2.1 million grant from the John D. and Catherine T. MacArthur Foundation. The purpose of the grant is to expand the definition of leadership in Chicago and the 14 recipients of the award represent a diverse group of community leaders from across the city.
"It's an honor to receive this award and it's such an affirmation. If I got [the award], anyone who works hard and is hungry to learn every day and teach what they are learning is able to be recognized. I have worked with a lot of immigrants and the best gift I get is seeing them in action and speaking at a press conference after knowing that they were so afraid when we first met," said Salazar.
More than 60 percent of residents in Chicago are from African, Latinx, Asian, Arab, and Native American communities but unfortunately, the city's civic leadership does not always reflect the city's true diversity. The Leaders for a New Chicago award was established to recognize a diverse range of established and emerging leaders who are working to build a more equitable Chicago, according to information provided by the Field Foundation.
"In Chicago we have no shortage of brilliant minds working every day to change lives and reshape our city," said Angelique Power, president of the Field Foundation. "We are so honored to be in partnership with the MacArthur Foundation as we hand over a megaphone, share resources, and then sit back and watch as these incredible people continue to soar, bringing our city to more just and beautiful places than we could've ever imagined."
In the beginning, Salazar got involved in activism simply as a local resident who wanted to provide support for her neighbors. She quickly became empowered to do more and eventually became a lead organizer with SWOP.
SWOP is an all-inclusive organization that works to strengthen communities in southwest Chicago and empower residents to connect with each other and improve living conditions in their neighborhoods. The leaders of SWOP, including Salazar, work tirelessly to build relationships across racial, ethnic, generational, and faith differences within communities to bring people together so they can act collectively in the best interests of their neighborhoods, according to information provided by SWOP.
"I'm the perfect story of 'who is SWOP' because the reason we exist is to give an opportunity for any person to take themselves seriously in public life and be a leader," said Salazar. "We provide a space for anyone who is interested in taking themselves into public life where they can create anything they want."
To learn more about SWOP visit www.swopchicago.org.