Contemporary Art Institution Celebrates 80 Year Anniversary With Free All-Day Celebration
7/17/2019, noon | Updated on 7/17/2019, noon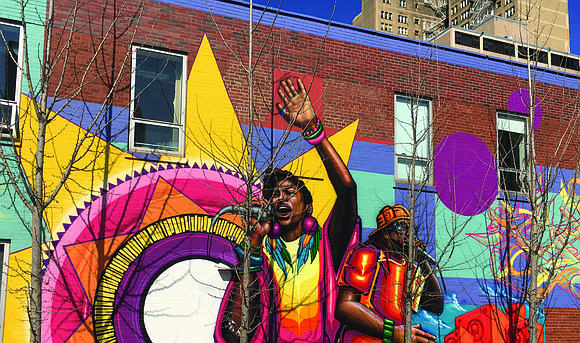 Contemporary Art Institution Celebrates 80 Year Anniversary With Free All-Day Celebration
BY KATHERINE NEWMAN
The Hyde Park Art Center, 5020 S. Cornell Ave., recently hosted its 80-year anniversary celebration event, 80 Years Young. The Art Center opened its doors for all of Chicago to come and participate in a full day of free activities, community discussions, and art experiences.
The day-long celebration ran from 9 a.m. to 7 p.m. and featured free art-making, open studios, live music, pop up performances, and special programs to honor the Hyde Park community.
"We turned one of our Super Saturday celebration days into a birthday party for not only our institution but also for our community," said Ariel Gentalen, programs manager for the Hyde Park Art Center. "I wanted to find a way that our institution could give back to the community that has been so wonderful in keeping us alive. We, as the staff, host the programs but it's really the community that walks through our door every day that produces the real magic and the art and the vibe that has kept us alive for 80 years."
During the event, participants were able to drop in for free at any time during the day. The celebration started with Hot Mess Yoga, one of the Hyde Park Art Centers community partners, leading a morning flow followed by the Chicago Bread Club serving a free pancake breakfast.
"We had art making all day and there was also comedy and music. I tried to make sure that all the activities were activities that could be intergenerational and accessible for all ages so hopefully, there was a little something for everyone," said Gentalen.
During the event, visitors were given the opportunity to contribute to the Hyde Park Art Centers time capsule project called 80 Years More. Poets in Residence were also on-site collecting wishes from attendees about how they hope to see the Hyde Park Art Center continue to be a valuable community partner through access to contemporary art and by helping to spark positive change in the neighborhood.
"Our hope is that the Hyde Park Art Center is a place that the community feels comfortable entering and a place where they feel like when they talk, we listen," said Gentalen. "The Art Center is a multi-faceted operation and every little habitat within it defines a part of our ecosystem and then we have all of our visitors and the people that come to our programs and help us grow."
Looking forward, Gertalen said the Hyde Park Art Center wants to make sure that all the moving pieces that makeup that Art Center remain connected and accountable to each other so that they can continue to operate a space that serves the whole community.
"We are grateful for all the artists whose work has been shown within our walls over the decades, many of whom are household names in the art world, and plenty who are not. And after 80 years, we are still excited to think about the next generation of artists," said Kate Lorenz, executive director of the Hyde Park Art Center.