50 Fastest Growing Women -Owned And Led Companies Announced By WPO And Capital One
7/17/2019, noon | Updated on 7/17/2019, noon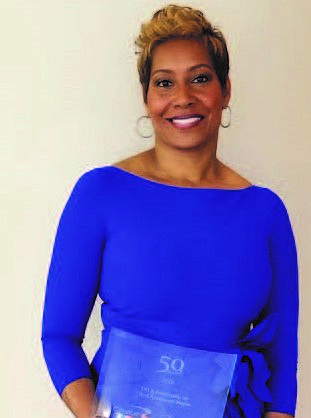 50 Fastest Growing Women -Owned And Led Companies Announced By WPO And Capital One
The Women Presidents' Organization (WPO) has announced the 12th annual ranking of the 50 Fastest-Growing Women-Owned/Led Companies™. Winners were announced during the WPO Annual Conference, held this year in Charlotte, NC.
The companies featured on this year's list span a wide variety of industries, including technology and finance, emerging sectors for women.
Aggregate revenues of the 50 companies are $5.9 billion, representing a significant impact towards women-led companies' contribution towards the global economy.
Tierra Kavanaugh Wayne, CEO of TKT & Associates based in Louisville, Kentucky, has been ranked (#2) among this year's WPO 50 Fastest-Growing Women-Owned/Led Companies list.
TKT & Associates is a multi-dimensional organization providing diversity for suppliers, workforce and total talent management solutions. The company specializes in garnering inclusive workforce MSPs, staffing, recruitment process outsourcing and contact centers. The current revenue is approximately $80 million with 228 employees.
"At Capital One, we are passionate about supporting women business owners and leaders," said Jenn Flynn, Head of Small Business Bank at Capital One. "The rise in women-owned businesses is an exciting trend to watch. These women are a real force, as reflected in the WPO 50 Fastest winners, and they are inspiring others to achieve great levels of success."
"I am delighted that this year our rankings show that women entrepreneurs are branching out into every sector of business," said WPO President and Founder Dr. Marsha Firestone. "We are also very encouraged that companies of all sizes, such as (TKT & Associates) are represented. Some smaller but very successful companies demonstrated significant growth this year."
All eligible companies were ranked according to a sales growth formula, combining percentage and absolute growth. To qualify for the ranking, businesses are required to be privately held, woman-owned/led companies and have reached annual revenues of at least $500,000 as of 2013 and every subsequent year. Applicants are not required to be WPO members.
Additional facts about the 2019 50 Fastest Growing Women-Owned/Led Businesses:
Average age of women-owner/leader is 50, younger than the average age of 51 last year
Aggregate revenue is $5.9 billion
Average 2018 revenue was $117.1 million
Average number of employees on first day: 9; projected average for 2019: 492
Funding sources at company start:
o 78% with their own funds
o 22% with funds from friends and family
o 6% with a bank loan
o 6% with a line of credit
o 4% with a credit card
o 8% with private investors/angels
All 50 companies were honored at a special event at the 2019 WPO Annual Conference at the Westin Charlotte in May. Following the luncheon and awards ceremony, WPO hosted a "Guide to Growth" discussion featuring a selection of 50 Fastest winners sharing advice for established entrepreneurs working to increase businesses.