SOUTH SIDE NATIVE HONORED BY COOK COUNTY BOARD FOR ENTREPRENEURIAL ACHIEVEMENTS
1/30/2019, noon | Updated on 1/30/2019, noon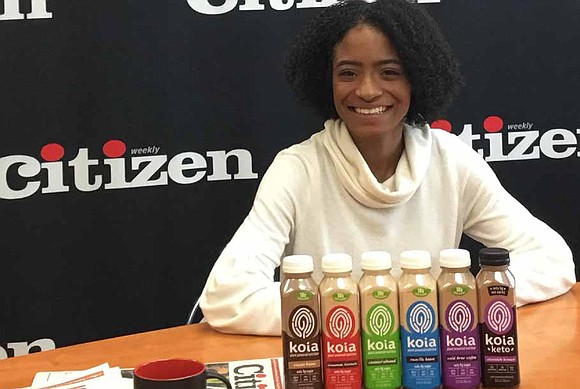 South Side Native Honored By Cook County Board For Entrepreneurial Achievements
BY KATHERINE NEWMAN
Cook County Commissioner Stanley Moore along with Cook County Board President Toni Preckwinkle, the entire Cook County Board of Commissioners, and community members recently gathered to recognize Maya French for her success as a young entrepreneur and her achievement of being named as one of Forbes 30 Under 30 for 2019.
As the co-founder of Koia, a healthy and 100% plant-based protein beverage, French found success at an early age. Since developing Koia in 2013 with her co-founder Dustin Baker their affordable, organic, and vegan protein drink has grown to now being sold at over 4,000 retail stores across the U.S. including Whole Foods, WalMart, Publix, and Stop & Shop. As of now, Koia is projected to generate $10 million dollars in annual sales, according to a press release from the Office of Cook County Commissioner Stanley Moore.
"Koia is a plant-based beverage and it has 18 grams of protein and only four grams of sugar and it's actually the best tasting plant-based beverage on the market. We have three different fruit flavors and we also just launched a keto line exclusive to Whole Foods and we have three flavors of that as well," said French.
At the time when Koia was created, French said she was in college and on a McDonald's and Walgreens diet. Around that same time she realized that she was lactose intolerant. From that point, she began to collaborate and make juices with Baker and together they decided to create an entirely plant-based and vegan protein drink.
"We decided that we were going to create the cleanest juice on the market and we went into the kitchen and started making almond milk and threw some chocolate in there and chia seeds. We had all these natural ingredients and were wondering why no one had come up with this yet. It was a huge hit," said French. "Next thing we know, we were like the second best selling beverage at some of the stores in Chicago."
In recognizing the achievements of French, Commissioner Moore said that he is committed to the development of minority and women-owned small businesses in his district and throughout all of Cook County.
"I am proud to recognize the accomplishments of Maya French, a young black female entrepreneur and small business owner who was born and raised in the 4th District," said Commissioner Moore." "Maya's story of hard work, dedication, and persistence to see her vision for a consumer-packaged-goods company to come to reality is an inspiration to us all and particularly women in Cook County and across the nation. It is my hope that other women will follow in Maya French's footsteps and actively pursue their passions in life."
To learn more about Koia visit www.drinkkoia.com.