The Area Continues To Host Screenings Around Chicago And Across The Country
1/30/2019, noon | Updated on 1/30/2019, noon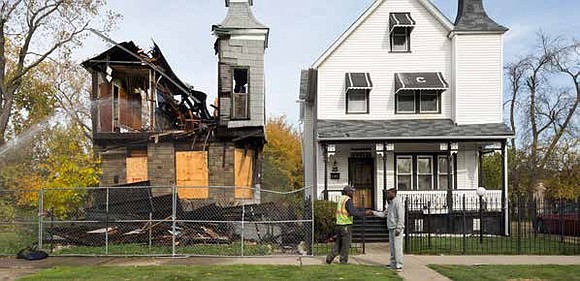 The Area Continues To Host Screenings Around Chicago And Across The Country
A free screening was recently hosted by Southside Together Organizing for Power (STOP) at the Woodlawn Resource Center to allow community members to see and discuss The Area, a documentary film that portrays the five-year journey of a south side neighborhood where more than 400 African-American families were being displaced by a multi-billion dollar freight company.
"The film is really about a neighborhood on the south side of Chicago and is expressed through Deborah Payne's experience and other community members. It's particularly really focused around this idea that Deborah puts so clearly in the film which is that its a film about respect and demanding respect and it's a film that's about community," said David Schalliol, director, cinematographer, and producer of The Area.
Like most screenings of The Area, the recent screening hosted by STOP was followed by a panel discussion that featured Deborah Payne, the films protagonist and co-producer, Brian Ashby, co-producer and editor of The Area, and members of the Obama Library CBA Coalition.
Together the group discussed their perspectives on displacement and the lessons they have learned through fighting it.
"I would say that it's a film about a community where life was interrupted abruptly by the railroad announcing to us that they were gonna make an intermodal out of our homes and unbeknownst to us, the process had already been taking place for quite some time and it was a done deal.
They expected us to be able to digest that and work with the people, that they gave us, to leave the area," said Payne.
The filmmakers followed the south side community for over a five-year period, and in the documentary you can see the Norfolk Southern Railway transform 85 acres of homes into an empty prairie land as they
proceed with their plan to expand their intermodal freight terminal into the area.
"This film is about how people felt about their homes, not their houses, but their homes. Homes are something that is within your heart and there are memories that create attachments to that house. So, it was getting detached and thinking about what community you can go
to and the safety of that community and the livelihood of your kids and getting seniors to understand it," said Payne. "It was to me, the strength of the community coming together and becoming educated on how to handle such a disaster like that."
The Area has almost exclusively been viewable through screenings
which have been taking place for close to a year. Both Payne and Schalliol said they have had a remarkable experience screening the film and they have enjoyed receiving direct feedback from viewers through the panel discussions that they have been hosting.
"I like the closeness of the screenings and I like the idea that viewers feel that I'm close enough to them to really talk," said Payne.
For more information and to see a schedule of upcoming screenings visit www.theareafilm.com.