All Marijuana Convictions set to be expunged
1/30/2019, noon | Updated on 1/30/2019, noon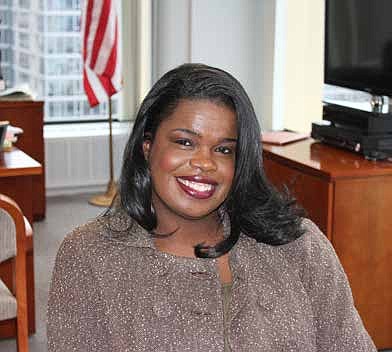 All Marijuana Convictions set to be expunged
BY WENDELL HUTSON Contributing Writer
If Cook County State's Attorney Kim Foxx makes good on her plan to expunge all misdemeanor marijuana convictions, it means Robert Griffin could soon become a banker. Almost 15 years ago, Griffin, 42, said he plead guilty to a misdemeanor drug possession charge after Chicago police found a small amount of marijuana in his car during a traffic stop.
Since pleading guilty Griffin said his dreams of working at a bank have diminished even though he is a college graduate with a master's degree in business administration.
"That drug possession is the only criminal record I have and I know it's because of that conviction that I cannot get hired working as a banker," contends Griffin. "I have always wanted to be a banker and not a manager at a currency exchange, which is where I currently work. Maybe now, if I can get this conviction erased, I can finally get paid doing something that I love."
Examples like Griffin is why Foxx said she wants to expunge marijuana convictions for everyone, which she said are thousands and thousands of people.
"This office has been moving away from marijuana cases even before I took office," Foxx told the Citizen. Moving forward, individuals charged with misdemeanor marijuana cases will either be diverted to treatment centers or the case will not be filed at all."
At press time, records for marijuana convictions in Cook County since 2012 were available by the Cook County State's Attorney Office or the Clerk of the Circuit Court Office.
According to Foxx, people with drug convictions need treatment not incarceration.
"What we need is to invest in public health because drug addiction is a public health crisis. There's this vicious cycle in society that's been going on for decades that has not produced results where we arrest people for drug possession and lock them up," said Foxx. "This only makes it harder for people to find work and housing."
Drug convictions can have lasting effects on people, said Barbara Lumpkin, interim president and chief executive officer at the Chicago Urban League.
"For decades, African Americans and other communities of color have been disproportionately impacted by the criminalization of certain drug use, which can make it harder for individuals to find employment or housing, even years after a misdemeanor conviction," added Lumpkin.
In December 2016, Foxx was elected the first, black female Cook County State's Attorney and said she knows first hand how hard times can be for people especially minorities. As a young child, she once lived in the Cabrini Green public housing complex on the Near West Side. And today, she keeps a small brick from the former low-income housing development on her desk, "to remind me where I came from," she said.
In Illinois, a Class A misdemeanor conviction for marijuana possession carries a penalty of court supervision or up to one year incarceration. An expungement is a court-ordered process in which the legal record of an arrest or a criminal conviction is sealed or erased, thus preventing anyone except law enforcement agencies from seeing a conviction.