Chicago Singer and Songwriter Creates Inspirational Music And Spreads Positive Vibes
1/23/2019, noon | Updated on 1/23/2019, noon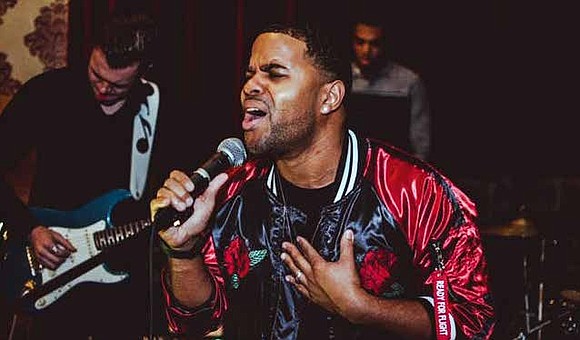 Chicago Singer and Songwriter Creates Inspirational Music And Spreads Positive Vibes
BY KATHERINE NEWMAN
Ramone Javon Griffith, known professionally as RJ Griffith, is an inspirational Chicago singer and songwriter who has been performing in one way or another since he was three years old. Today, Griffith has focused his energy solely on music and hopes to use his platform to spread positivity in Chicago and throughout the world.
"I got my start around three years old. I'm an identical twin so people used to see my brother and I and tell my mom that she should put us in acting and modeling. One day, we ended up being sick, we had the chicken pox at the same time, and she sat at home with us that day and typed up a resume and then we got headshots and we started doing little print ads for school books and clothing companies," said Griffith.
The twins started going on auditions and learned that acting, modeling, and performance came naturally to both of them. They both began to be cast in commercials, plays, and even were hired to share the role of Jefferson Albert Tibbs, alongside Keanu Reeves and Michael B. Jordan, in the movie Hardball which was released in 2001.
Through his adolescent experiences in show business, Griffith developed a strong passion for singing and eventually accepted a collegiate choir scholarship and began to focus solely on his music.
"I'm currently working on my debut album called Good Day which is actually the name of my lead single and it has been doing really well so far. No one heard about me until I released this song and it actually ended up being streamed in 32 countries this past year and has opened up so many doors," said Griffith.
Recently, Griffith was accepted into The Recording Academy which is the world's leading society of music professionals and hosts the annual Grammy Awards.
"I have been putting out music for over two years and it took until last year for people to start to notice me, so I decided to submit to The Recording Academy and I got accepted so now I'll be going to the Grammys and that is probably my most proud
moment at this point. That showed me that I had the talent to make it," said Griffith.
Aside from writing and recording music, Griffith has also made it a point to give back and recently launched Positive Vibes Only which is an open mic night for young
people where they can share their creative talents in a safe and positive environment.
"I always said that I wanted to throw my own shows and give kids the opportunities that I didn't have," said Griffith. "I think that more cities need these types of events to create a safe haven and a positive place for kids to go on a Friday night."
Griffith's music is available to stream on iTunes, Spotify, and Soundcloud. You can also follow him on all social media platforms at @ RJGMusic.