Greater Englewood Toastmasters Helps To Develop Public Speaking And Leadership Skills
1/16/2019, noon | Updated on 1/16/2019, noon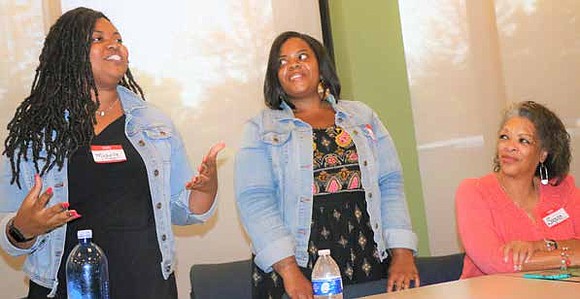 Greater Englewood Toastmasters Helps To Develop Public Speaking And Leadership Skills
BY KATHERINE NEWMAN
The Greater Englewood Toastmasters Club hosts meetings twice a month in the Seventh District Police Station, 1438 W. 63rd St., in the community room where members are given an opportunity to improve their public speaking, leadership, and listening skills.
The Greater Englewood Toastmasters Club is a charter of the larger Toastmasters International network which is a world leader in communication and leadership development. As a whole, the international organization has more than 357,000 memberships and 16,600 clubs across 143 countries, according to the Toastmasters International website.
"The mission of Toastmasters in itself is to help develop people's ability to communicate as well as their ability to lead in their organizations, communities, and in their households. Englewood is a great place for communication development as well as leadership development so here we are today," said Quentien Brewington, vice president of education for the Greater Englewood Toastmasters Club.
The Greater Englewood Toastmasters Club is dedicated to helping members improve and enhance their speaking, leading, thinking, and listening skills. The cost of joining the Toastmasters
Club International network depends on the month an individual is joining and can range anywhere from $7.50 to $45 plus $20 for a new member kit and $10 for Greater Englewood club dues, according to the Greater Englewood Toastmasters website.
"I joined Toastmasters because I really wanted to be able to convey my thoughts and I wanted to be able to get in front of a crowd and be able to speak without fear," said Cherice Price, president
of Greater Englewood Toastmasters.
"When I first joined Toastmasters I was really only interested in getting my goals met. Having been a member now for a few years, I'm really interested in helping other people develop their gift so it has become very altruistic for me."
During the bi-monthly Greater Englewood Toastmasters meetings, members partake in lessons and activities that provide them with an opportunity to speak comfortably in public, be better listeners, lead teams and conduct meetings, give and receive constructive evaluations, inspire others and be more persuasive, and build confidence.
"When people come in off the street I say 'this is your experience and whatever you want to focus on, whether it is money, spirituality, or just educational growth to be more of an asset to somebody in the community, we are going to focus on that. This is about just being there to meet people where they are and to help them get to where they want to go," said Brewington.
All meetings are open to the public and visitors are welcome to attend Greater Englewood Toastmaster meetings at any time to get an idea of how the club operates, ask questions, and learn more about becoming a member.
"We started out with three or four members and we have grown to a little over twenty members and we are definitely looking to continue to grow," said Price.
To learn more about the Greater Englewood Toastmasters Club visit www.greaterenglewood.toastmastersclubs. org.