Sneak Peak Chicago Sneaker Convention Hosted In South Suburbs
1/9/2019, noon | Updated on 1/9/2019, noon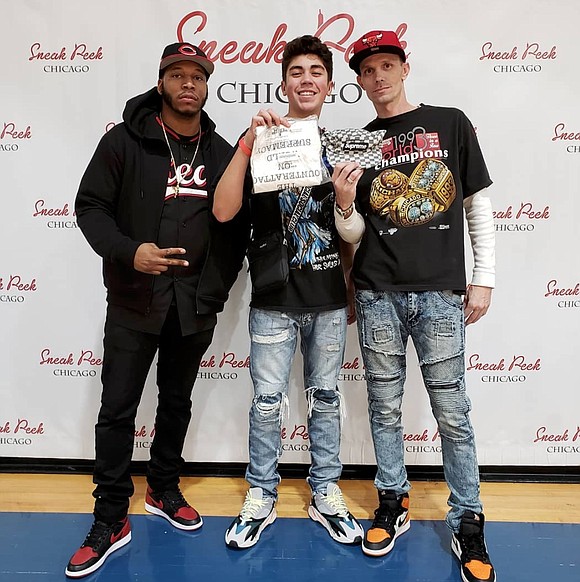 Sneak Peak Chicago Sneaker Convention Hosted In South Suburbs
By: Katherine Newman
Sneak Peak Chicago recently hosted a sneaker convention at the Matteson Community Center. The event provides an opportunity for people to buy, sell, and trade a variety of urban streetwear items from limited edition sneakers, to hats, and clothing, and other fashion brand memorabilia.
This particular sneaker convention was started by Micheal Garren, a Tinley Park resident and self-proclaimed sneaker-head, who noticed a gap in Chicago's sneaker market and a lack of opportunities for collectors to buy, sell, and trade with each other.
"There is a big event, Sneaker Con, that only comes to Chicago once a year if that and I've been doing this for so long and know so many different people of all different ages who buy, sell, and trade sneakers and being in a big marketplace like Chicago it just felt like we could use more than just that one big even per year," said Garren.
Being able to use the Matteson Community Center is ideal for Garren because it's close to home for him and he said it is easier for people to access than the large Sneaker Con event that is typically hosted in Schaumburg.
"Sneaker Con, when they do come, they are all the way up in Schaumburg and where I'm at in Matteson is literally 10 minutes away from Indiana," said Garren. "There are 12-year-old kids that come to these things and they are expecting their parents to chauffeur them around and when you gotta tell your mom to drive you two hours to an event it is a little harder than a half hour or 45 minutes."
Over the past decade, Garren has seen the sneaker market change and grow. When he first got started it was much more about collecting, today he says it is also a lot about profit.
"Every weekend Jordans release, and that's how the market has accumulated over time. Jordans used to release like twice a year so there really wasn't a need to go somewhere to buy, sell, and trade but now with them coming out every weekend, and some stores have tier levels to where private-owned boutiques get more limited releases, that's where the market comes into play," said Garren.
Because more sneakers are coming out but in smaller quantities, there are instances where a shoe might be released at a reasonable price but retail for 20 times that amount after it is sold out.
"Obviously when a product is limited the price drives up on it. For example, there are shoes out there that release for $130 that are going for $2500. The markup on that is like $2200 and that's the reason why a lot of people are doing this. I do this because I'm a sneaker-head but in the last 10 years I've seen it change to where there are kids that are doing this just to make money off the fact that there are so many different shoes," said Garren.