ArtCation Offers Once In A Lifetime Opportunity To Explore Ethiopian Art
1/9/2019, noon | Updated on 1/9/2019, noon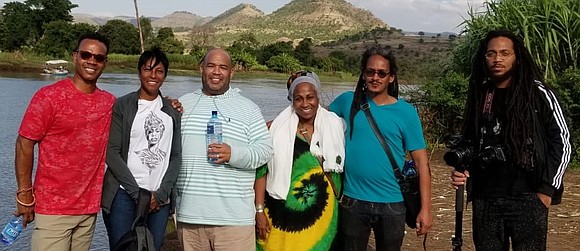 ArtCation Offers Once In A Lifetime Opportunity To Explore Ethiopian Art
By Katherine Newman
The owners of Gallery Guichard, located at 436 E 47th St. in Bronzeville, recently hosted their first informational meeting for those interested in participating in ArtCation which will provide travelers with the chance to visit Ethiopia and a rare opportunity to experience the country's art, culture, and history with the owners of Gallery Guichard.
Gallery Guichard is located on the first floor of the Bronzeville Artist Lofts and features a rotating collection of works from numerous global artists. The owners, Andre Guichard, Frances Guichard, and Stephen Mitchell, opened the gallery in 2005 with the mission to expose patrons to multicultural artists specializing in the African Diaspora. Through fine art exhibitions, experiential events, and art tours, Gallery Guichard gives emerging underrepresented talent an opportunity to develop their imagination and creativity, according to the Gallery Guichard website.
"We hope to expose our friends and clients to the culture of the continent of Africa. Helping bridge the disconnect that was created through slavery. We hope to bring people together through art. Art often softens the conversation and helps people explore their creative side. We hope to connect people with the beautiful continent of Africa, the culture, the people, and broaden our horizons," said Andre Guichard, co-owner of Gallery Guichard.
The owners of Gallery Guichard recognize the importance of exploring African countries and have had their own personal experiences traveling to places like Senegal and the South African Eastern Cape. ArtCation will further expand on these opportunities, support their mission to expose patron to cross-cultural experiences, and allow friends and family to join them in the exploration of the rich art of the African Diaspora.
"We invite our friends and collectors to Immerse themselves into the fine arts of the country versus Airport art," said Guichard.
On the trip, visitors will be able to explore economic opportunities for trade and real estate, visit Ethiopian artists' studios galleries and museums, and explore the significant cultural and historic landmarks of the country.
"The experience will be enhanced by a fresh approach to the presentation of both historic and contemporary art highlighting the profile of Ethiopia's art and tourism sector," said Guichard.
Prior to embarking on the trip to Ethiopia, Gallery, Guichard plans to bring an exhibition of over 50 works by Merid Tafesse, an Ethiopian artist, to the gallery this summer.
"The bridge is not just for art but also for those interested in visiting, investing and learning the truth about our shared African History and greatness," said Guichard. "This is a bucket-list trip and extraordinary cultural exploration to Ethiopia in East Africa."
More information and packages will follow in the upcoming months. If interested please send an email to galleryguichardsocial@gmail.com.