LOOKING BACK ON 2018
1/2/2019, noon | Updated on 1/2/2019, noon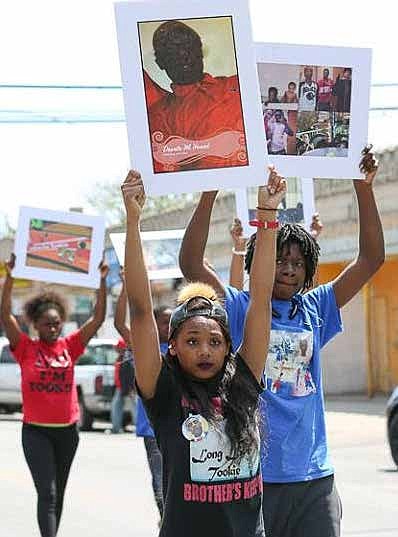 Looking Back on 2018
BY KATHERINE NEWMAN
Over the past year, the Citizen Newspaper has worked diligently to provide thought provoking news that uplifts the communities that we serve. As 2018 comes to a close, we went through the archives to share some of this year's highlights.
To start the year off, a new Illinois state law went into effect on Jan. 1, 2018 that established guidelines for judges to give higher sentences to repeat gun offenders.
The law also expanded diversion programs for first-time nonviolent offenders. Many people and places celebrated Martin Luther King Jr. Day in January, including the DuSable Museum of African American History. During their annual Dr. Martin Luther King Jr. Celebration, the Museum launched a new interactive mobile app that has transformed the way visitors experience the exhibits and African American history.
In February, the Citizen celebrated Black History month by spotlighting significant moments and people in African American history throughout Chicago and across the country including the story of Henrietta Lacks, Thomas J. Burrell, and Chicago's own Black Panther Party.
Also in February, Useni Eugene Perkins released Rise of the Phoenix – a compilation of voices from Chicago's Black Struggle from 1960-1975 which is a book that documents the lives and voices of people who took part in the Black Empowerment and Black Arts Movements of the 1960s and 1970s.
In March, community leaders broke ground on a much needed Jewel-Osco at the northwest corner of 61st St. and S. Cottage Grove Ave. in Woodlawn. The 48,000 square foot store will provide quality food options to the neighborhood as well as a 24-hour pharmacy.
As Chicago's harsh winter began to end, the Chatham community said goodbye to Izola White who passed away on April 10. White was well known in the community for operating Izola's Fine Dining Soul Food Restaurant at 522 E. 79th St. for over 50 years.
This past summer was a busy time for community activists who successfully executed the Dan Ryan Expressway Shut Down, Lake Shore Drive Shut Down, and the O'Hare Airport Shut Down which were all orchestrated as a way to call for peace in the city.
Pastor John Hannah from New Life Covenant Southend Church hosted his annual Prayer on the 9 initiative in May and called for all of Chicago to gather on 79th Street to march and pray for the lives that are most at risk in the city.
Likewise, Saint Sabina Church in Auburn Gresham hosted their annual End of the School Year Rally and Peace March in June which was led by Father Micheal Pfleger.
In July, members of the Chatham community met with 6th Ward Alderman, Roderick Sawyer, to discuss their concerns about King Food and Deli opening on the corner of 87th Street and King Drive.Since then, the 24-hour convenience store has closed and a Krispy's Fried Chicken and Seafood opened in its place.
Also in July, Congressman Danny Davis released his State of the African American Male Post Conference Report which shared research, analysis, and a plan of action to improve the quality of life for black men.