OVER 50 ORGANIZATIONS PARTNER TO SET GOAL OF DRASTICALLY REDUCING HOMICIDES IN CHICAGO
2/27/2019, noon | Updated on 2/27/2019, noon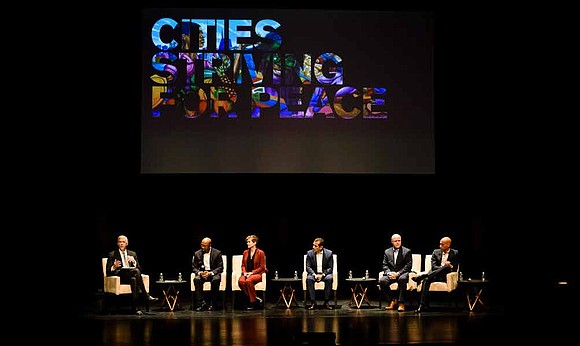 Over 50 Organizations Partner To Set Goal Of Drastically Reducing Homicides In Chicago
BY KATHERINE NEWMAN
The City of Chicago is known for many things: cold temperatures, towering skyscrapers, deep dish pizza and unfortunately, gun violence.
Although the Chicago Police Department announced in their 2017 Annual Report that homicides were down over 15 percent from 2016 to 2017 and shooting incidents were down 22 percent during that same time period,
people living in the most at-risk areas of the city still don't feel 15 to 22 percent safer.
"We have had a 15 percent reduction in shootings and homicides but still, grandmothers aren't feeling safe to see their grandkids out playing or parents don't feel safe to see their kids out playing and until we get to that point, we still have a lot of work to do," said Billy Moore, manager of case work and outreach in the Green Re-entry Program at the Inner-City Muslim Action Network (IMAN).
In an effort to further reduce gun violence, over 50 community organizations have come together to create the inVEST campaign which was formally launched at the recent Cities Striving for Peace event that brought together five former big-city mayors who were successful in lowering gun violence in their cities.
The former mayors discussed their own experiences and shared advice on what they think Chicago can do to support the families and communities who are being the most impacted by gun violence.
The inVEST campaign has set the goal of reducing homicides in Chicago by 80 percent over the next five years and is calling on the city, county, state, and federal government to collectively provide $150 million in annual public funding to be used for violence reduction, intervention, and prevention programs in Chicago to ensure that they can meet that goal.
"When I think about what New York and LA, which we are often compared to, have done in the space of addressing violence, they have drastically reduced their violence by far more than what we are proposing right now," said Eddie. Bocanegra, senior director of Heartland Alliance READI Chicago. "It is going to take an entire community and an entire village to address this issue, but I think that it's a very realistic goal and [I] think that if we didn't shoot for this, we would be selling ourselves short."
The inVEST coalition has developed a violence reduction framework that focuses on three key components for communities most impacted by violence.
First is prevention, which includes creating safe public spaces for youth, bringing together existing community partners, and improving relationships between the community and police.
The second focus will be on intervention which will aim to reduce ongoing violence between specific groups, establish stabilization and support for families, and provide transitional jobs.
The third element is strengthening community coordination and support by funding the newly established Mayor's Office of Violence Prevention, launching a community commission, and increasing the reach of existing community organizations.