Ald. Leslie Hairston Announces Long Awaited Grocery Store
2/21/2019, 6 a.m. | Updated on 2/21/2019, 6 a.m.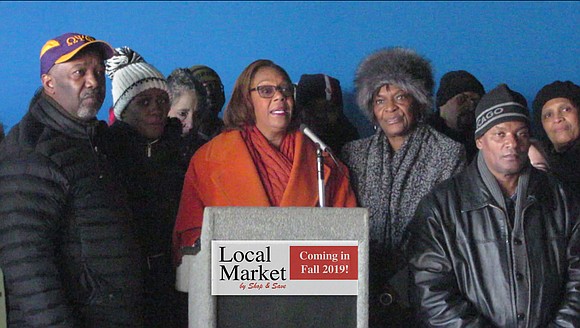 Ald. Leslie Hairston Announces Long Awaited Grocery Store
Stakeholders in Chicago's 5th Ward who've been waiting on a grocery store to replace the vacant Dominick's in the Jeffery Plaza shopping center stood with Ald. Leslie Hairston at an announcement of the site opening under new ownership last Friday morning.
Shop & Save, a local grocery chain with stores in Chicago and suburbs, closed on purchasing the plaza at 2101 E. 71st Street last week. The owners received $10 million in Tax Increment Funds to redevelop the 62,000 sq. ft. store and upgrade the plaza.
"It's taken almost six years to find a suitable grocer to replace this much-needed store. Like so many projects in the 5th Ward, we had to rely on personal relationships to attract a full-service grocery store to the shopping center," said Hairston.
The alderman explained much of the delay was the result of out-of-state owners who did not see the grocery store in terms of people, but as a business. That is one reason she was so adamant about the next owners being local and having control over the entire plaza.
"We used TIF money in the way the late Mayor Harold Washington intended—to reserve local tax dollars for spending in blighted area," explained the 5th Ward alderman. "Control of the entire plaza will allow the community to have input in the types of business that'll open in the future."
Amid construction already underway, Hairston reminded those attending the news conference that this is the fourth grocery store opening she is responsible for since becoming alderman. Yet, there is still a food desert on the city's southeast side. According to a study she requested four years ago, there are more than 130,000 people living in the area encompassing Chicago from the Midway Plaisance south to 86th Street and from King Dr. east to Lake Michigan. Based on population, the area would be the sixth largest in Illinois behind Naperville. Unlike Naperville, which has one major grocery store for every 13,000 people, the southeast side would need four more full service grocery stores to accommodate every 27,000 people in the community.
"The 5th Ward is a diverse community, which includes Woodlawn, Greater Grand Crossing, Hyde Park, the Highlands, South Shore and the University of Chicago. The income levels range from low-income renters to homeowners in mini-mansions. The 5th Ward is densely populated, which is why it should've never taken this long to get a replacement grocer," stated the 5th Ward alderman.
Hairston said after countless community meetings, she is excited about the new store and cannot wait until it opens for business in the fall.