U.S. Bank Black History Month Honorees Plant the Seeds of Possibility Jackie Taylor, Black Ensemble Theater Recognized for Leadership
2/13/2019, noon | Updated on 2/13/2019, noon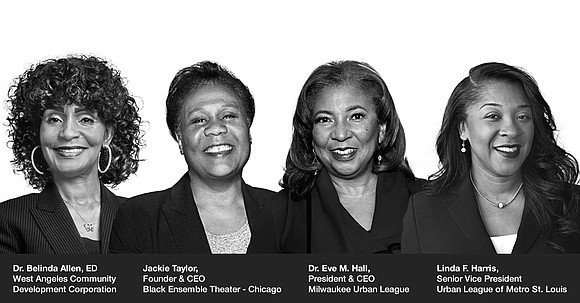 U.S. Bank Black History Month Honorees Plant the Seeds of Possibility Jackie Taylor, Black Ensemble Theater Recognized for Leadership
U.S. Bank proudly celebrates Black History Month by recognizing four of their key community partners across the country who are planting the seeds of possibility: Jackie Taylor, founder and CEO of Black Ensemble Theater in Chicago; Dr. Belinda Allen, executive director of West Angeles Community Development Corporation in Los Angeles; Dr. Eve M. Hall, president of the Milwaukee Urban League; and Linda Harris, senior vice president of the Urban League of Metro St. Louis. Through economic empowerment, education, affordable housing, and the arts, these women harness their organizations' resources and talent to, in no small way, change the lives of the people they serve.
"Celebrating Black History Month is an opportunity for us to celebrate the leaders in our communities who we partner with to make a tangible difference," says Greg Cunningham, vice president, diversity and inclusion for U.S. Bank. "Through Community Possible, we're proud to support the communities where we live, work and play - and these nonprofit organizations who make life better for all our neighbors."
Jackie Taylor founded the Black Ensemble Theater with a mission to eradicate racism and its damaging effects on society through theater arts, including programs that perpetuate African American history, reach a cross cultural audience and serve disenfranchised communities. Through the nonprofit's educational outreach programs, she and her teams are on a mission to eradicate racism."
"Our young people have to learn that they are worthy," says Jackie Taylor, founder and CEO of Black Ensemble Theater "In order to be effective you have to create positive change, you have to impact, you have to motivate - and that's what we're doing in the schools through our educational outreach programs.
We're transforming the environment through the arts." Taylor's programs instill positivity, productivity and positive conflict resolution skills, helping young people get out of the "circle of self-destruction" perpetuated by racism.
"I hope my legacy lies in the fact that I built a company with the mission to eradicate racism, accomplishing our mission through education, through the
performing arts, through theater, through music, through utilizing the total cultural environment," says Taylor. "And that many, many years from now the company that I built is still surviving, is still going - way past my lifetime. And that's maybe when my great-great-great-grandson or -granddaughter will
look around and say, well, now there's no need for this company. We don't have racism. We don't even understand what it's about - it doesn't exist."
U.S. Bank proudly celebrates Black History Month, and those who are planting the seeds of possibility, alongside the community. Learn more at usbank.com/blackhistorymonth.