Five of Six African American Mayoral Candidates Share Their Priorities For Day One In Office
2/13/2019, noon | Updated on 2/13/2019, noon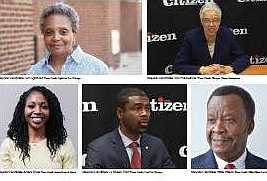 Five of Six African American Mayoral Candidates Share Their Priorities For Day One In Office
BY KATHERINE NEWMAN
As one of the first candidates to throw her hat into the ring and the first openly LGBTQ candidate to make the ballot in Chicago, Lori Lightfoot is regarded as an experienced reform expert and has worked at the city and federal level to make government more accountable and accessible. As mayor, she has said that she will work to create opportunities for every Chicagoan, regardless of race, ethnicity, sexual orientation, economic status, or neighborhood.
CITIZEN: What is your number one priority and if elected, what will be your first action upon taking office?
LIGHTFOOT: Making sure that we have a plan to keep people safe. Public safety is a huge priority for me. It's kind of the overarching issue to I think every other substantive challenge that we have in the city and fundamentally if people don't feel safe they are not going to stay and if people don't feel safe businesses aren't going to invest. If there is no safety in neighborhoods then we are not going to be able to make the kind of investments that we need to really kickstart a lot of economic and other activity in the neighborhoods so public safety is, to me, the number on issue. For more information visit www.lightfootforchicago. com.
After a public endorsement by Chicago's own Chance the Rapper, Amara Enyia's mayoral campaign was quickly catapulted into the spotlight. After getting her start as a journalist, Enyia earned a Masters degree in education, a law degree where she focused on international and environmental law, and a Ph.D. in Education Policy. As a consultant for education organizations and community groups, she helps design community-centered education plans and she created Thanks for Paying Your Taxes, an animated series that simplifies public finance topics to help residents understand how their tax dollars are being used. She believes in helping residents and community groups understand the numbers so they can advocate for their own interests.
CITIZEN: What is your number one priority and if elected, what will be your first action upon taking office?
ENYIA: I've been pretty insistent that because of the nature of the issues and the nature of the challenges that we face in the city we cannot do just one thing. We don't even have the luxury of being able to say 'this is the one thing that I would focus on.' I think there are a number of things that need to happen across departments. I talk a lot about really changing the philosophy of many of the city's departments as it relates to economic development and making sure we have more balanced development and investment in neighborhoods and that deals specifically with the Department of Planning and Development. We have to get a handle on our economic issues.
When we talk about budget and revenues, I plan to make sure that we are moving down the path of financial sovereignty which for me means establishing a public bank for the city. In education there are structural things that we have to do that go beyond just day one. For example, addressing the student-based budgeting model which needs to be changed, establishing not just a chief equity officer but a department or an office of equity that is fully staffed so that they can address a lot of what we have seen in terms of inequitable allocation of resources in CPS and the inequitable spread of programmatic offerings in CPS. There are so many issues tied to equity in CPS that it needs an entire office.