ComEd giving new light to school with solar panels
2/13/2019, noon | Updated on 2/13/2019, noon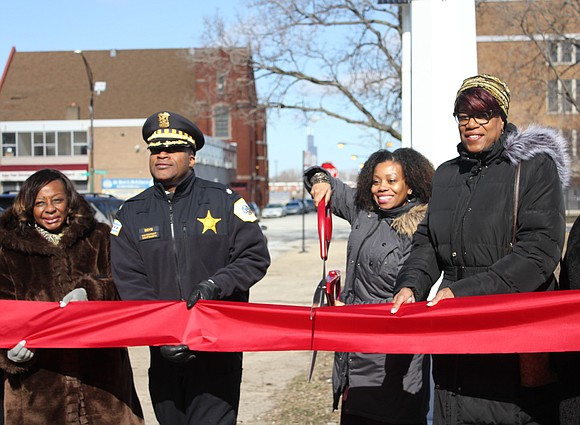 ComEd giving new light to school with solar panels
By Wendell Hutson, Contributing Writer
A newly installed remote power unit by ComEd at the front entrance of Ludwig Van Beethoven Elementary School could now make it safer for students going to school.
A Feb. 8 ribbon-cutting ceremony was held outside the school, 25 W. 47th St., to kickoff the pilot project in Bronzeville, and was attended by 2nd District Police Commander Dion Boyd; Alderman Pat Dowell (3rd), whose ward includes the school, and state Sen. Mattie Hunter (D-3rd), who is an alumnus of Beethoven.
Now, when students and staff enter the building they will walk pass a 30-foot tall, remote power unit (RPU), which is part of ComEd's "Community of the Future" initiative, aimed at supporting the Chicago Police Department's Safe Passage Program.
"The unit installed at Beethoven provides a couple things. It helps with the environment because it is renewable energy. It also provides lighting to the front entrance and that allows for better safety especially in the evening," said Melissa Washington, vice president of external affairs for ComEd. "I would hope with the installation of this power unit that it encourages more students to think about STEM (science, technology, engineering and math) careers."
Using the RPU to help boost students' interest in STEM is also on the mind of Principal Mellodie Brown.
"We want to use this opportunity to engage our students to learn about energy, technology and science so that this can be a teaching moment," Brown said addressing students who attended the event.
Washington added that the RPU is completely disconnected from the electric grid and will draw all its energy from a wind turbine, a solar panel and battery storage, offering the school one of the most innovative lighting solutions available.
While enhancing safety at Beethoven, ComEd will assess the pilot project for the potential of expanding to other locations within its service region, explained Washington. Additionally, she said teachers would have access to this data to design class lessons around renewable energy.
The project is also at Paul Dunbar Career Academy High School, 3000 S. King Drive, thus putting Bronzeville on the cutting-edge of technology, contends Dowell.
"Thanks to a partnership between ComEd and our community, renewable energy is being used more throughout the area," said Dowell. "Now, when after school activities take place, students can feel safer leaving the building because of the new lighting."
After a brief introduction about the pilot program, a ribbon-cutting ceremony took place in front of the building. Hunter, whose district includes the school, said she grew up across the street from Beethoven in the former Robert Taylor public housing complex.
"It's a home coming for me. I not only graduated from Beethoven but I also am an alumni of DuSable High School too," said Hunter. "I'm so excited for the kids here. They have an opportunity to learn more about wind and solar and decide if this is something they want to pursue as a career. When I was their age, there weren't many career choices for us, but now the field is wide open."